Nov. 6, 2019 2 min read
Here at Future Mind, development is our passion. Our team of experts specialize in a wide variety of platforms in languages, including iOS, Android, Python, and Node.js. To date, we've delivered over 100 projects in multiple industries, including finance, e-commerce, transportation, and security. Given all of this, it's no surprise that Clutch, a globally-recognized market research firm, highlighted us on an annual report of top B2B service providers in Europe!
Clutch utilized a comprehensive array of data points to see how we ranked among other companies in our space. Clutch analysts focus primarily on studying client feedback, which they collect by conducting phone interviews with B2B clients. Based on this information, Clutch listed us not only as a top developer in Poland, but also as one of the premier app developers in Warsaw!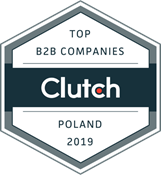 If you navigate to Clutch's ratings and reviews database, you'll be able to see for yourself the amazing comments that we've received from our clients!
"Our project manager, who handles our interface, has a broad knowledge of all aspects of development. It helps us to have that good single point of contact to manage our project." – Andrew Fuller, Founder, Tradewize
"Our internal cloud engineers have given excellent feedback on their work, saying that they've never seen such well-structured work in API design." – Peter Hasenstab, Project Manager, Relayr
"The workmanship was excellent, as were their depth of knowledge and professionalism." – Senior Software Engineer, Hospital & Healthcare Company
Clutch is an excellent resource, and we're thankful to have to other outlets — The Manifest and Visual Objects — to promote ourselves online. On The Manifest, a blog-style business information site, we made the 2019 list of top UX design agencies in Poland! Similarly, we're also ranked on Visual Objects' list of the top Polish mobile app developers. Visual Objects displays portfolio items for digital service providers like us.

Thank you Clutch for featuring us on your platform! We also appreciate our clients who have helped us reach this milestone. We would not be here without you!
If you're looking for a development partner, set up a time to talk with our team. We'd love to discuss your business goals.