Our report " Młodzi vs Mobile " explores the relationship between users aged 15-35 and smartphones, including their in-store shopping habits. Analyzing the responses of our report participants, it's possible to observe the accelerated dynamics of generational shifts that are taking place.
Saying that the members of the generation born in the 21st century are digital natives has already become quite clichéd. However, let's delve deeper into the way ever-evolving mobile technology truly impacts the everyday lives of those who are just stepping into adulthood and becoming full-fledged consumers.
78% of young people aged 15-20 use phones while shopping in brick-and-mortar stores and only 16% of them never browse the internet in-store.
Smartphones are becoming the shopping companions of the youngest generation. How and why do so many consumers aged 15-35 use them?
Smart shopping is in the DNA of young consumers
Participants of our report openly admit that smartphones are their go-to during shopping. They mainly use phones for snagging discounts, comparing products and prices, and reading reviews on specific items. It's evident that mobile devices have become indispensable shopping companions for this tech-savvy generation.
Young consumers mastered the art of smart shopping, hunting for bargains, signing up for loyalty programs, and trading points for discounts and rewards. Poles aged 15-35 are increasingly relying on their favorite brands' apps or special apps that help them find the best deals.
Quick or even instant access to discounts is the prime factor motivating young consumers to download m-commerce apps. Stores are catching on and enticing them with posters, QR codes, and staff recommendations. But this is just the beginning, as retailers are crafting more comprehensive and appealing incentives.
For young consumers, smart shopping becomes one of the ways of adapting to the current situation – post-pandemic life, lockdowns, surging inflation, and uncertainty stirred by conflicts beyond the eastern border.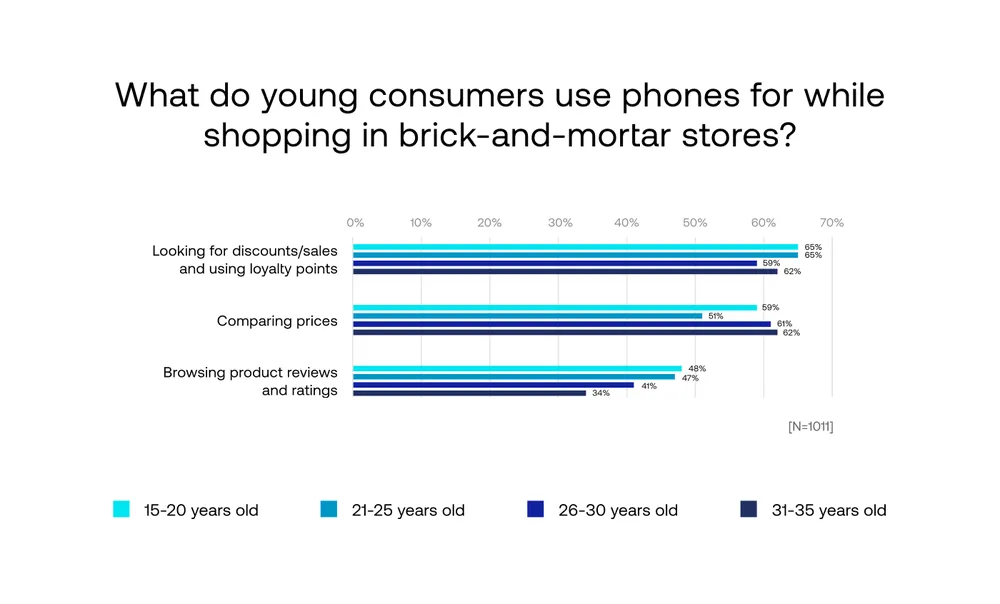 How young consumers make shopping decisions
Even with the demographic decline, young people's journey from education to the job market is just as challenging as that of their older peers. Moreover, the pandemic has had a significant impact on social interactions, leading to a considerable reduction in social skills among numerous young individuals.
With instability and lower incomes becoming increasingly prevalent, young consumers are on the lookout for alternatives and clever ways to save on everyday purchases. This is when smartphones also come to the rescue – beyond loyalty programs and occasional promotions, young buyers follow video bloggers and TikTokers sharing tips on buying more affordably, planning shopping wisely, or conjuring up budget-friendly meals.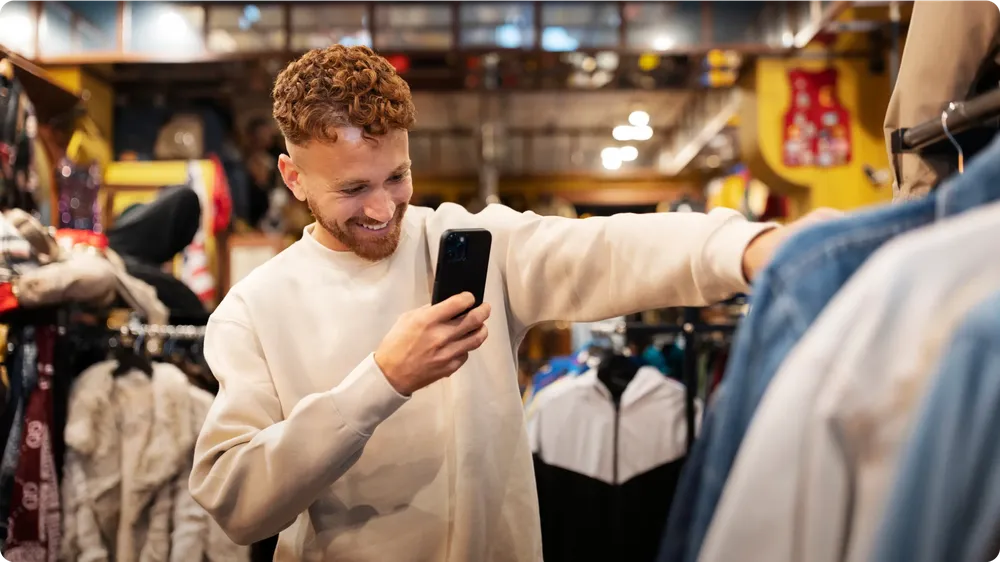 Ratings and reviews play another crucial role in helping the young decide which products are worth buying and which ones are best avoided. While 30- and 40-year-olds typically rely on recommendations from friends and family or use product comparison tools, the youngest generation discovers completely different ways to find the best deals and products.
For consumers aged 15-20, TikTok is the reigning social media champion that aggregates information, reviews, advice, and tips in the form of quick and captivating short videos. The information young buyers come across on TikTok holds more sway in forming their opinions than the recommendations of their friends or family. This represents a significant shift compared to the shopping habits of 30-year-olds and older consumers.
Young consumers challenge brands
The new purchasing habits of young consumers pose a challenge for many brands. Mobile applications are becoming the key to meeting those emerging needs. To harness their potential, brands have to design customer journeys that meet the requirements of modern shoppers: mainly reliability, speed, and intuitiveness.
The youngest consumers utilize apps more dynamically than older generations. That's why brands should engage in a dialogue with young users who don't want to be passive recipients of content served by ambassadors or marketing. Instead, they crave direct access to information and the possibility to ask questions in real time and receive prompt responses.
Our report shows that the youngest consumers accumulate a higher number of unused apps. They download these apps, use them once or twice when needed, and then simply forget about them.
If brands truly want to establish loyal and enduring connections with buyers, they need to step up their game because standard, run-of-the-mill campaigns won't cut it anymore. To stay competitive, companies should consistently create enticing incentives, and make efforts to engage and loyalize users .
Young consumers have very high expectations and are quite mindful of how much attention they devote to digital products. If a brand comes across as too pushy or bombards them with notifications, they'd rather uninstall the app than bother disabling the notifications. It's a straightforward mechanism – they choose the option that demands less effort.
The secret sauce to engaging and retaining young shoppers
So, how can companies retain and engage young consumers? The key to success lies in crafting highly personalized messages and offerings, as they increase the likelihood of achieving the desired impact and fostering loyalty.
Shopping apps offer numerous methods of personalization. As users select their favorite products or categories, the app will respond by presenting them with offers that align with their preferences. Moreover, it will also remember their past purchase decisions and after a while (depending on how often a particular product category is used), the app will inquire if they'd be interested in re-ordering with a special discount. It's all about creating a shopping experience that feels uniquely designed for each individual consumer.
Apps can also recommend similar products or package deals to users when they shop in-store, compare offers, or scan goods on the shelf to learn more. M-commerce applications have the potential to become shopping assistants , catering to users' most crucial requirements by offering access to information, reviews, and valuable advice. At the same time, they can remember and analyze consumer inquiries to personalize future communication even more effectively.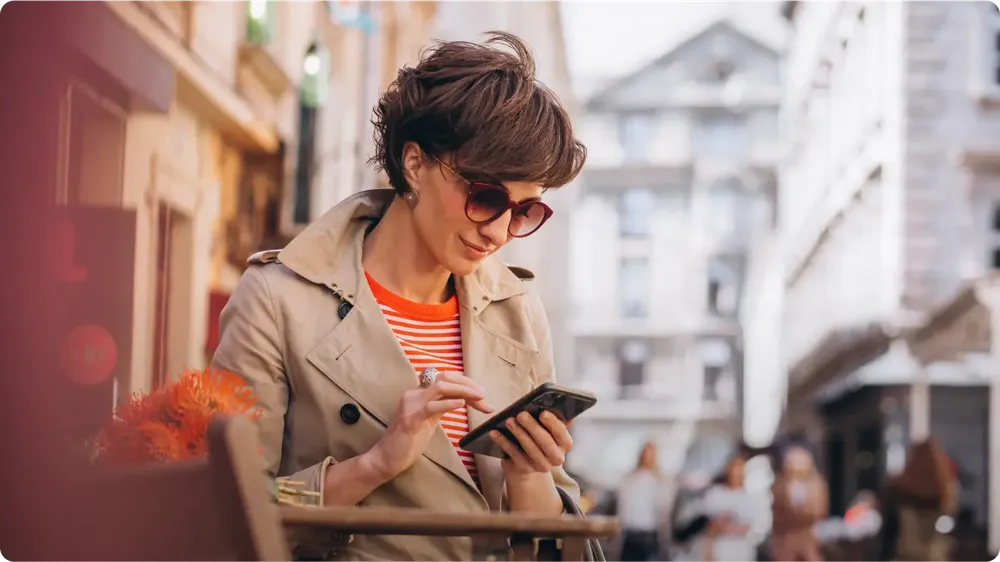 How do young consumers shop and what do they use smartphones for? What functionalities should an app have to resonate with users? What can increase the likelihood of a purchase, and what discourages consumers? And finally, how can brands develop an effective communication strategy to connect with buyers in a meaningful way?
To answer these questions, companies need to understand their consumers' preferences and learn to address buyers' needs before they actually become aware of them. Target groups come with diverse preferences, leading to a wide range of expectations and different ways of fulfilling them.
Equipped with a comprehensive knowledge base and an agile data repository, companies can effectively monitor emerging trends and devise customized solutions to cater to the ever-evolving expectations of young consumers, who are pushing retailers to focus on m-commerce.