In today's world, consumers are inundated at every turn with an endless array of offers and options to choose from. The plethora of services and products combining the real and virtual worlds (phygital) can be truly overwhelming. No wonder that 1/3 of young consumers abandon unintuitive solutions in favor of apps that are straightforward and bring them satisfaction.
At Future Mind, when approaching digital transformation projects and co-creating solutions with our Clients, we're fully conscious that no valuable user experiences can exist without intuitive end-products.
That's why we kick off each project with a thorough analysis that allows us to understand user needs and evaluate product usability. On board, our experienced UX research team employs a wide range of research methods to tailor each activity to the specific project requirements.
What is user experience research?
The concept of user experience encompasses the holistic range of sensations, impressions, feelings, and emotions that users experience when interacting with a product, service, system, or brand.
Hence, user experience research (abbreviated as UX research ) aims to analyze users' interactions, behaviors, and perceptions to improve the design and usability of products or services. Armed with the knowledge of the target audience's needs, preferences, and challenges, it's possible to enhance the quality of interactions, and better respond to constantly evolving requirements.
The whys and hows of UX research
At Future Mind, we begin every UX research project by defining the objectives with stakeholders. This allows us to answer the following questions:
What do we already know?
What do we want to find out?
Why are we conducting this research?
What will we use the results for?

Discovering answers to these questions acts as a springboard for defining research goals and handpicking suitable methods and tools. This pivotal stage plays a vital role in every project.
Like a compass leading astray, if the research goals are misaligned, even flawless execution of subsequent steps such as methodology selection, research conduct, and conclusion drawing will end in disappointment, failing to meet the authentic needs of the stakeholders.
Examples of UX research in action
Methodological triangulation that blends qualitative, quantitative, and expert research methods mitigates the risk of drawing erroneous conclusions and enhances overall reliability.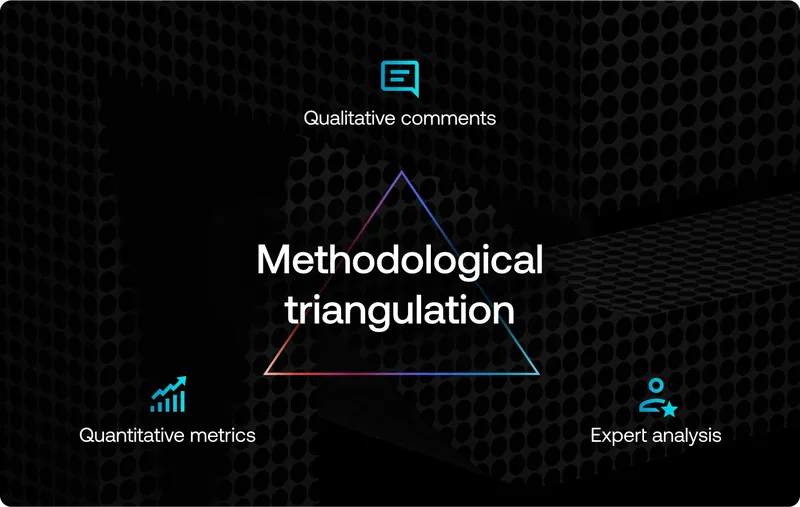 How about an example? Let's consider Company X, an e-commerce player aiming to conduct usability tests for its online store, Store X.
As we delve into defining the research goals, it becomes evident that the company's main focus lies in gaining deeper insights into its store's users. Additionally, our talks with brand affiliates unveil that Store X has been equipped with Google Analytics, diligently amassing data over the course of several months.
With this knowledge at hand, we can propose to Company X that, in its unique scenario, opting for individual in-depth interviews (IDIs) with its store's users would yield greater advantages compared to usability tests. Furthermore, we will merge the insights gathered from these interviews with the valuable data gleaned from the store's analytics.
As a result, we will craft customer personas for Store X, vividly depicting various customer types, their needs, challenges, behaviors, and motivations using a blend of quantitative and qualitative data.
When doing UX research, it's vital to exercise caution and avoid combining all available methods, as not all of them synergize seamlessly. Thus, it's paramount to select solutions and tools that align with the project's specific goals, ensuring a harmonious integration of research approaches.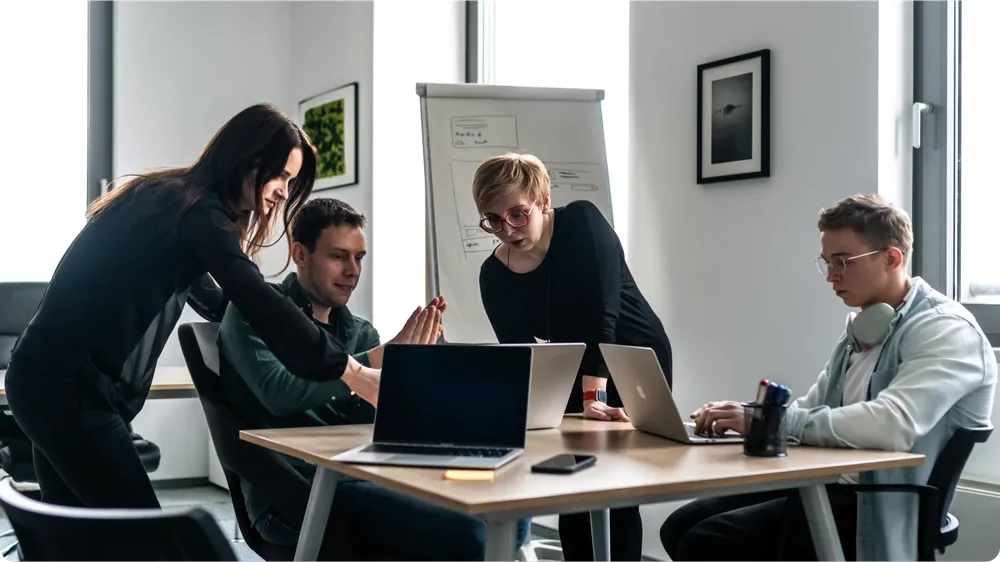 Future Mind's approach to UX research
Future Mind's research team has extensive expertise in a wide array of research methods.
Throughout our projects, we have successfully employed individual in-depth interviews (IDIs), focus group interviews (FGIs), usability tests, quantitative techniques, ethnographic techniques, face tracking, and video game playtesting, among others.
Our versatility and adaptability shine through collaborations with Clients from various industries, such as banking, e-commerce, healthcare, retail, gaming, and automotive.
We strive to foster a sense of teamwork by actively involving Clients in the research process. Beyond standard meetings to establish research scope and scenarios, we encourage Clients to partake in the research sessions firsthand.
This heightened level of engagement has a positive impact on the quality of our discussions, enhances our understanding of challenges, and amplifies the subsequent influence of research on future endeavors.
Unveiling the rewards of user experience research
The primary advantage of conducting UX research lies in cost-effectiveness. While the process may seem like a paradoxical expense, it ultimately unlocks substantial savings in both time and financial resources.
When viewed from a long-term perspective, research processes enable the optimization of resources and efficient allocation of efforts. These costs are relatively minor, compared to development and marketing expenditures. Just think about mobile app development.
By beginning with an exploration of user needs, followed by careful prototyping and user testing, you can achieve much higher returns compared to starting development without these crucial steps.
This method safeguards against the perils of investing in digital products that lack intuition, fail to captivate users, and remain bereft of long-term profitability, instead of being powerful revenue drivers.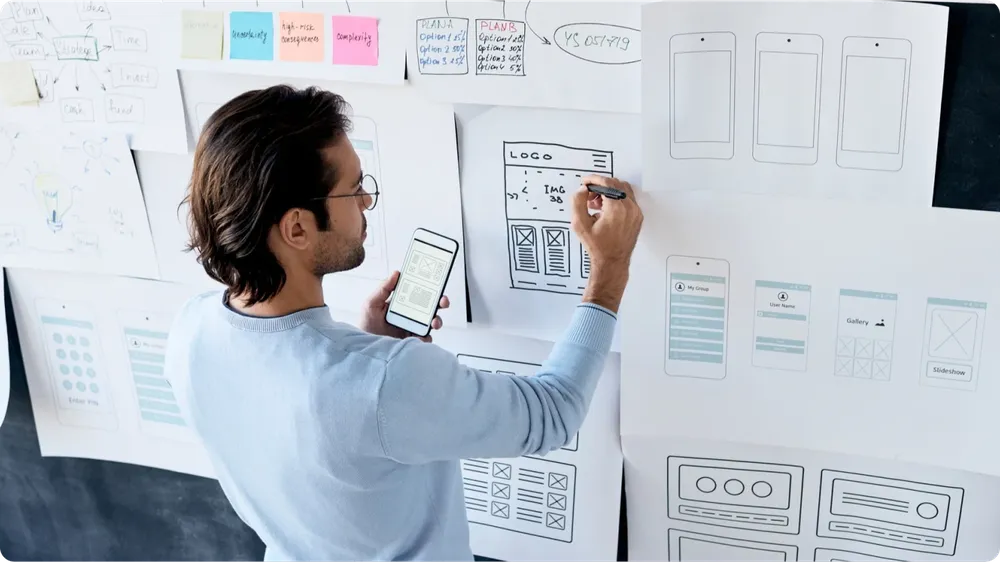 Among other benefits of UX research, we can also include a better alignment of the product with user needs and expectations, leading to greater satisfaction and loyalty. This creates a competitive advantage, as unique user experiences hold more value in a market saturated with similar products.
Digital products that are user-friendly, intuitive, and provide valuable experiences hold greater potential for success in the market. These factors are particularly pertinent given the present market landscape, where user expectations continue to rise due to their access to a burgeoning array of digital services.
The shifting social structure and the rise of the digitally native generation, who have been immersed in online and computer technologies since childhood, constitute a growing segment of society that demands sophisticated yet friendly solutions. Catering to their needs is crucial to stay afloat in 2023.
The key to decoding user experiences
Users' voices serve as invaluable signposts during the process of digital product development. By defining clear goals for research projects and selecting appropriate methodologies, it's possible to hear those voices.
So, in a nutshell – UX research is a recipe for gaining a competitive advantage as well as saving time and resources that would otherwise be wasted on creating solutions that don't align with the users and the market.
At Future Mind we're perfectly aware that there's no efficient digital product design without UX research, and we're always ready to support retailers with innovative ideas that can shape the future.