Development of technology and constantly growing purchasing power of Millennials, whose requirements towards products and services are completely different than those of the previous generations, affect most industries. It is no different in the case of transportation. Comfort, flexibility and aversion to long-term commitments mean that people belonging to that age group do not need (or want) their own car. Services based on sharing economy perfectly match these trends.
Over the last year, car sharing services have become a permanent fixture in the largest Polish cities. A person using their smartphone to open a parked car is no longer a surprising sight in Warsaw, Cracow, Poznań, Wrocław or Tri-city.
Services of this type are particularly popular among the Millennials, who use public transport for everyday travel, but require passenger cars for shopping, faster journey to locations less accessible by public transit services or a trip out of town with friends.
This trend was noticed by short-term car rental companies, entrepreneurs, municipalities and car manufacturers. In this article we will analyse the car sharing market, its current state and development prospects.
Car sharing market analysis
Shared mobility market began to rapidly develop around 2010-2011 when the total number of its users exceeded one million. In 2017, there were already around 10 million people using this type of service, and, according to a study by Frost & Sullivan, by 2025 their numbers will reach 36 million, maintaining the annual growth rate of 16.4%. Global Market Insights forecasts the value of the global car sharing market in 2024 at USD 11 billion. At present, the leading shared mobility markets are Western Europe and the US, while experts predict that Asia will experience the fastest growth in this field.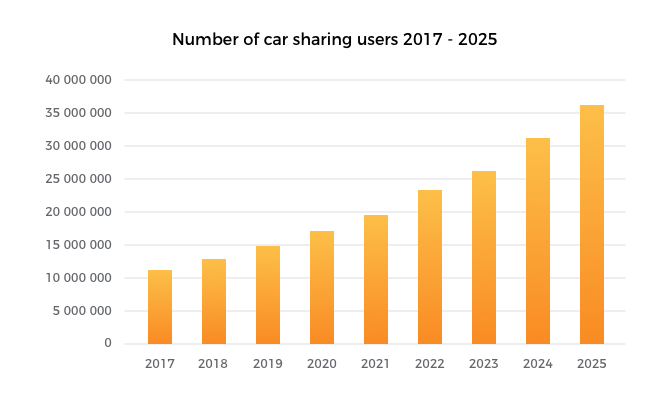 Source: Frost & Sullivan, Future of Car Sharing Market to 2025
Car manufacturers
The first industry to notice the changing social trends and enter the car sharing market were the car manufacturers themselves. The Daimler Group began testing their car2go service as early as 2008 and is now the largest shared mobility system in the world. Thanks to car2go, more than 3,6 million users can use 14,000 cars located in various cities in Europe, North America and Asia. However, not every manufacturer wants to take on the burden of running the entire service, so most engage in car sharing as a partner, treating this market as an another sales channel.
The main forces that drive changes in the automotive industry are: growing smartphone penetration, increased access to technologies, social changes, and environmental concerns. Car manufacturers are very well aware of these issues, so, in order to follow the trends while maintaining current revenue levels, they test new business models.
In addition to running (or partnering with) car sharing services, they offer their cars using subscription model. VW Group, currently testing their Porsche Passport service in the US, is a great example. For a monthly subscription, a customer gains access to most Porsche models. They do not have to worry about insurance, maintenance, or even washing the car. When they want to switch vehicles a concierge delivers a new model. If they do not want to continue using the service, they can cancel the subscription at any time.
Such a service model, introduced by mass-market car manufacturers, could offer flexibility, convenience, and lack of long-term commitment demanded by contemporary society. The price, set at only a slightly higher level when compared to leasing, should attract and convince potential customers.
Will this stop car dealerships from selling their products and transform them into car delivery-and-collection points? Probably not, but the influence of technology is so strong that one can't rule out the possibility of "dark dealerships" located in city centres, as it is the case with today's dark kitchens in London.
The end point for all those changes will be self-driving cars, on which the majority of automotive companies are working now. However, cars that take us from A to B without our assistance should not be expected before 2030. Until then, new models of distribution and car sharing will continue to develop, and national governments will work to adapt the laws to new technologies.
Car rental companies
The second industry that is heavily involved in the car sharing market are short-term car rental companies. Innovative enterprises from this sector diversify their revenue by introducing shared mobility services - the best example is Zipcar, owned by Avis Budget Group. We can also see this trend in Poland. Two of the biggest players in the car sharing market originate from the car rental industry, while another large operator – 99rent – is currently planning its launch with intention to focus on the B2B model.
Entrepreneurs
Entrepreneurs see their chance in the peer-to-peer (P2P) model: a marketplace that connects car owners with people who want to rent vehicles. It is the least popular car sharing model, with notable exceptions being US and France, only countries in which it has been adopted and where it is the most popular model of all. As the popularity of shared mobility grows, the P2P model might also grow more important. This is amply demonstrated by Turo – the largest P2P car sharing platform which managed to raise 92 million dollars in the last funding round. A well-designed service of this type may also do well in Poland. Market awareness is growing, and now is the best time to try out such a business model.
Cities
Partnerships between car sharing service and municipalities provide good development prospects, especially in case of electric cars. Cities can offer a wide range of conveniences for car sharing users e.g. designated parking spaces in the city centre, permission to use bus lanes, or entry to zones closed to cars powered by internal combustion engines. Such solutions reduce the number of cars in the city, which means smaller traffic jams, more ample parking spaces, and reduced air pollution. Additionally, in the context of smart cities, authorities will be able to collect data from municipal shared vehicles and use it to improve the infrastructure.
Car Sharing and Transportation Trends 2019
There is no doubt that transportation is an industry that faces rapid development and changes. No wonder that since last year when we published this article, new trends and technologies have emerged. Car sharing and shared mobility are still booming. It shouldn't be surprising that at the same time, it attracts new big players such as power companies, and that the industry aims for having a diverse portfolio including free-floating car sharing and other connected services. Let us give you an update by analyzing the most significant emerging car sharing and transportation trends in 2019.
Power companies are growing interest in car sharing
Although car sharing is usually associated with companies that are already involved in transportation, new big players are coming. Power companies are one of them which seems to be a smart move as the shift to EVs and alternative fuels will likely make an impact on oil and gas revenues. This situation is unlikely to stop and the power sector can play a big role in managing supply and demand for electricity, supporting the development of alternative fuels and long-range batteries. This trend is well visible in Poland where PGE Nowa Energia (Polish Energy Group, which is a state-owned public power company and the largest power producing company in Poland) has obtained the controlling shares in 4Mobility, premium car sharing services present in Warsaw and Poznan. Innogy, the German energy company offers 500 electric BMW i3 for car sharing in Warsaw; whereas Polish TAURON has launched an electric car sharing pilot program in Katowice, Silesia.
Micromobility - the future of transportation?
Micromobility, which is 'the ability of movement through minimalistic means', on short distances, using light vehicles, such as scooters, longboards, and obviously bikes, is another emerging and significant trend, especially in overcrowded cities. Although bikes and scooters are nothing new, technology makes a huge impact on how we use them and pay for them as nowadays the ownership is not obvious just like it's not when it comes to using cars. According to CB Insights, bikes and scooters account for 60% of all the rides shorter than 5 miles in the United States. No wonder that micromobility also attracts big players, such as BMW and Daimler who have joined forces and as Hive, they offer scooters to rent in 6 cities in Europe, including Warsaw. Volkswagen is also working on a similar service, whereas other automotive companies acquire or invest in them. For example, Ford has acquired an electric scooter startup Spin.
Mobility Ecosystems
What is important to know is that one doesn't exclude the other. Both car sharing, taxi and micromobility services can be a part of one ecosystem, one app; and it seems to be the future of shared transportation in the city. Similarly, Uber wants to go beyond ride sharing and to offer a comprehensive customer journey when it comes to transportation, including renting bikes, scooters, and entering the car sharing market. Uber has already started entering the plans into force by establishing partnerships with Lime and Getaround, and by acquiring JUMP - electric bikes and scooters available to short-term rent on demand.
Comparison of mobile software applications
With the applications installed on our phones we can register an account, rent a vehicle, measure the travel distance along with the time, and pay for the rental. The mobile app is the main element of this kind of service, therefore its reliability and usability are among the key issues affecting customer satisfaction. The companies operating in the car sharing model in Warsaw are: Traficar, Panek CarSharing, 4Mobility and Omni car sharing. We have tested their apps.
At Future Mind we design and implement mobile software applications, which helps us look at these products from the perspective of both users and developers. Our assessment covers:
registration process – for security reasons, car sharing companies require a photo of a driving licence, payment card number, or even that of a personal ID card. Maximum simplification and reliability of this process are crucial when it comes to retaining users,
reliability – code and image scanning, GPS, payments. To properly handle all processes each component of the application must run smoothly, quickly, and use as little battery resources as possible,
user experience and design – car sharing is a complex service, so it is important to design an intuitive process and make sure the user doesn't feel lost in the app.
Do you want to know the results of the test? Download the e-book and read the test of car sharing services available in Poland and description of the characteristics of a good car sharing software application.
Editor's Note: This post was originally published in April 2018 and has been updated for accuracy and comprehensiveness.