As the competition tightens in most sectors, businesses find themselves struggling with ever-increasing customer demands. What technological solution can your organization leverage to meet them? Our experience suggests choosing a customer data platform (commonly abbreviated as CDP). Read on to find out how implementing a customer data platform can help you increase revenue by loyalizing users and increasing their lifetime value.
Know your customer or someone else will
In many cases, consumers don't actually know what they need from you or why they do what they do. We're not trying to imply anything negative about other people's decision-making skills here. All of us make countless small choices that we could never explain because they are subconscious or rooted in biases, customs, and mental shortcuts.
Only a true understanding of customer needs and preferences will allow you to build great digital products and reap the associated rewards, though. So who do you ask for those coveted insights? You might be tempted to say "customers themselves", but – while interacting with users is also of critical importance – it is not nearly enough.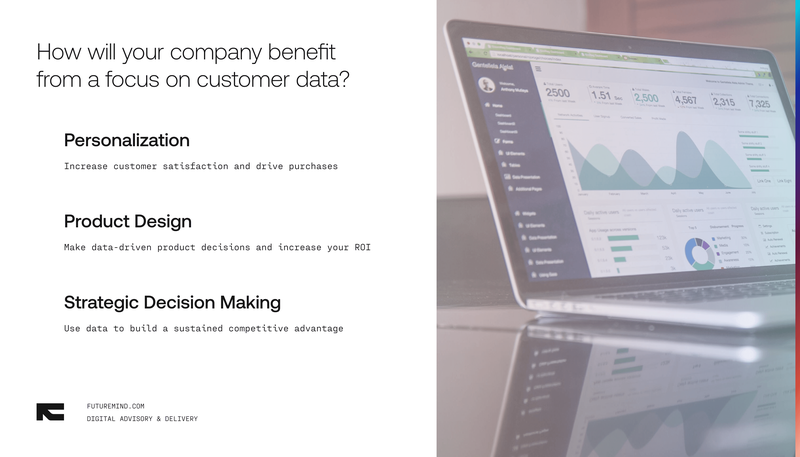 Understanding mental shortcuts can make or break your product's conversion rates, and the only way to take the right product design decisions in this confusing environment is by looking for actionable data insights. Before we tell you more about customer data platforms, let's explore specific ways in which a strong focus on customer data will benefit your company.
Personalization
Generic offerings have been a thing of the past for quite some time, and the sooner you stop seeing them as a viable option, the better for your business prospects. According to McKinsey's Next in Personalization 2021 Report , 71% of consumers now expect companies to deliver personalized experiences. 76% report feeling frustrated when only a generic offer is available. The conclusion is obvious ‒ ignoring this ever-growing personalization trend means not just going against the grain, but also alienating around three-quarters of the average target group.
But let's say you're a numbers person without much regard for claims rooted in imprecise phenomena such as "feelings". What about the money? Well, our money is still on personalization. Consumer preferences translate nearly 1:1 in just the type of decisions that drive revenue. Personalize, and you can expect your customers to be 76% more likely to purchase, 78% more likely to repurchase, and 78% more likely to recommend your products to friends and family. A very positive snowball effect waiting to happen ‒ at your company or at your competitor's.
Companies that prioritize personalization grow their revenue on average 40% faster than their counterparts who do not. A strong focus on customers' lifetime value means that this effect is likely to hold up in the long term. Personalization is not a fad ‒ rather, an investment in generating and sustaining a competitive advantage.
Product design
Consumers love personalized offers, but let's go up a level. All those products, discounts, and recommendations are presented within your digital product ‒ a piece of software that is constantly evolving as your business specialists try to come up with new revenue streams and optimize the existing ones, and your engineers work to implement their ideas.
A new feature? Or maybe some subtle UI improvements? An information architecture redesign? All these sound like a great way to make your app or website bigger, better, faster, stronger… or, more realistically, better at meeting your KPIs and driving revenue growth. But which method should you opt for? What changes to make? And why? If you've read this far, you already know that the answer lies in properly storing and analyzing customer data .
According to a study by McKinsey , the companies who place in the top quartile for good ‒ data-driven ‒ design practices experience nearly double the revenue growth in comparison to the three lowest quartiles and boast a total return to shareholders higher by around 33%. McKinsey's advice on how to achieve this sort of result? " Fuse data and design to supercharge innovation ". Sounds nice, performs even better.
Strategic decision-making and operations
We've had a look at specific offers, features, and products, but there is one more level to explore. What enables quality digital products and services to come to life, gain market share, and generate revenue is the organization composed of decision-makers like yourself. For the benefits of a data-driven approach to spread across the whole company, it has to be adopted at the highest level and taken into account when making strategic decisions. Otherwise, in the long term, instead of sustained growth you may encounter confusion and chaos.
According to an analysis by QuantumBlack , an AI-focused analytics company, by 2025, being "data-driven" will equal to data being "embedded in every decision, interaction, and process" . Information will be collected, processed, and analyzed in real time so that it's always ready to use both for key decision makers and specialists. As the usage of data collection and management software becomes more widespread, and the possibilities of such software continue to develop in the meanwhile, QuantumBlack's prognosis seems more and more likely. If you want to compete with the best in a few years, you need to start preparing for this increasingly data-driven world now – by the time the competition had made the switch, it might be too late.
The challenges of bringing chaos to order
Being aware that data is most likely where the answers to many of your questions are hidden is a great first step, but many companies don't go much further than that. They try to collect and analyze data… But without the right knowledge and proper tools, it often proves too difficult to deliver results despite the best of intentions.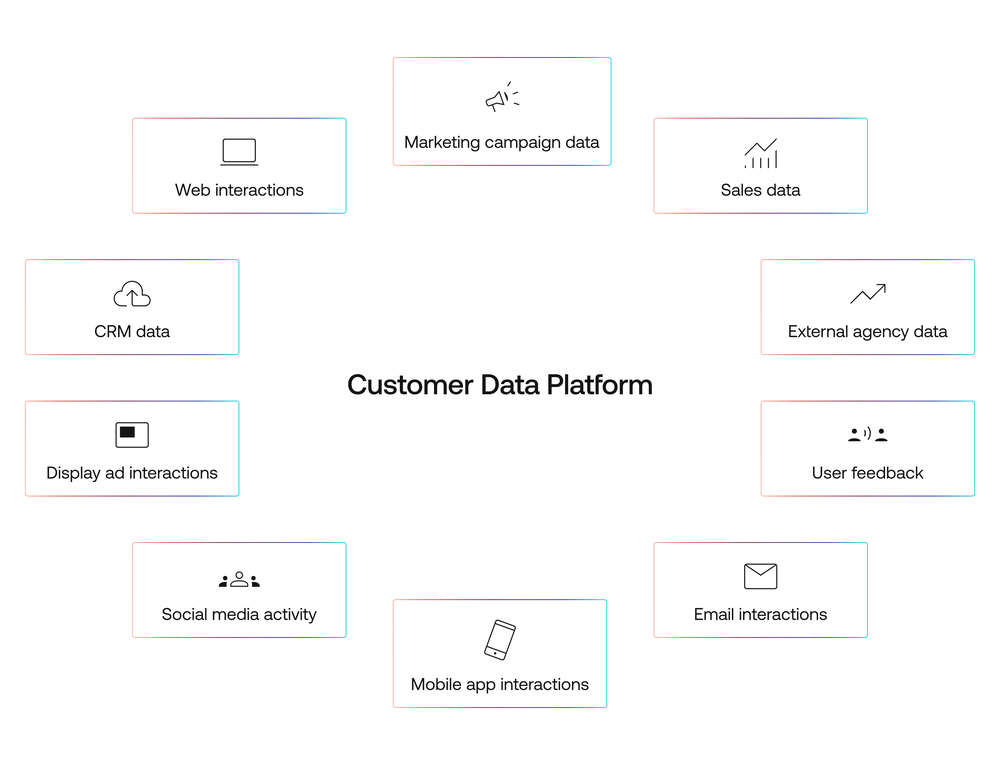 What are the most typical problems that businesses encounter when they fail to complete their due diligence in data management?
Data silos – it is a major problem when different divisions of the same company store and process different types of data in completely separate ways, without sharing information with each other. IT, Sales, Marketing, and more may all store plenty of outrageously valuable  customer data, but the pieces of the puzzle that could be put together in a better-organized company never are. The company misses out on the possibility of consolidating all data on each customer into a so-called single customer view, which is much more actionable than whatever pieces of data strewn across separate silos. Also, decision makers end up only having access to a part of the story when analyzing the company's situation, as they likely only refer to the data stored by their own department.
Inconsistent data sets – this problem is especially typical for companies with the silos issue… and exacerbates it even further. If each department formats its data differently, combining all the sets into a single database may be a difficult if not impossible challenge. The longer this situation persists, the more data may potentially end up going to waste because even the best data analytics expert just won't be able to put it to good use.
Lacking data literacy – in some organizations, employees are told to collect and use data, but not the why and the how of the whole process – not to mention simply lacking the education necessary to interpret statistical information and derive factual conclusions. According to Harvard Business Review, the existing education system is not equipped to teach the population about data, and the majority of the current workforce needs to improve their data literacy skills to flourish in the contemporary business world. Except for actual data analytics experts, you're better off assuming that your employees need additional training – and making sure to provide it. Let's remember, though, that just knowledge is not enough – proper tools are often required for specialists to transform their expertise into results.
Security and compliance issues – companies that lack a unified data management policy and decide against using proven tools will often run into issues by improper handling of customer information. Even industry-leading corporations with entire security departments suffer from costly breaches or get hit with penalties for failing to comply with regulations such as GDPR.
Inadequate strategy – data management is a crucial element of overall business and technology strategy for any modern company. It's not just about choosing the right tools and methods for analyzing some random sets – it is about making plans that are rooted in reality and enabling outcomes that can only be achieved after adopting a data-driven approach at every level of the organization, including among key decision makers. Ignoring data or treating it as an afterthought will always put an organization at a disadvantage compared to competitors who are already making strategic decisions based on data.
Worried that your company may be suffering from some of those issues – or maybe even them all? No shame in realizing that some things may need improvement. Indeed, that is the first step towards joining the world of data-driven business. The next step is a thorough data audit that will give you a proper understanding of your organization's situation and actionable steps you can take to improve it both in the short and long term.
Leverage customer data platforms to meet your business goals
Throughout the article, we would often refer to "proper tools" – and a type of software that you might want to consider is a customer data platform. As usual, there are multiple competing options you can choose from, but what they have in common is a set of features that will allow you to deal with most typical problems associated with customer data management.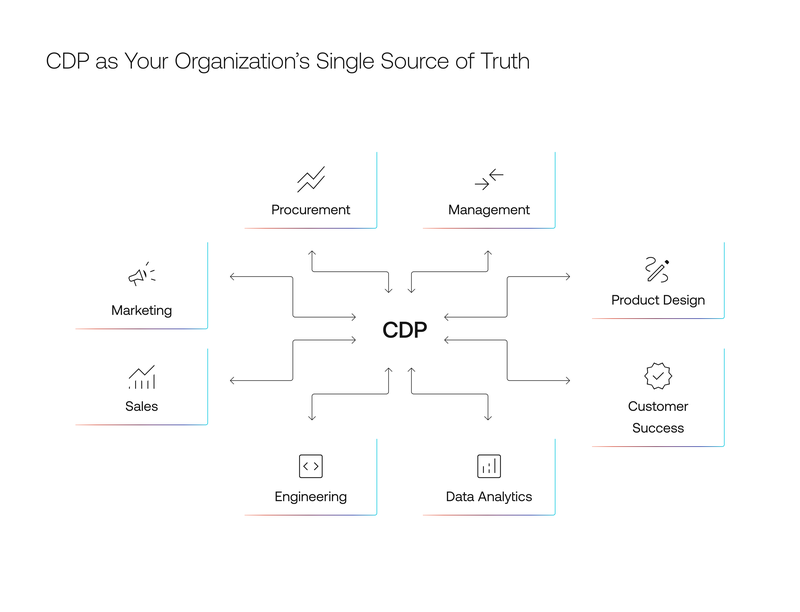 In particular – while it may not be sufficient to solve all your data-related issues – a customer data platform will hypercharge your personalization capabilities in marketing campaigns and customer experience thanks to data processing and predictive analytics.
As the information on user behavior is collected across the touch points of your product or service, a CDP will handle necessary processes such as matching, standardization, and validation, all that to ensure the history from all devices and channels is unified into a single customer view, in a format shared across the whole organization and accessible by all departments
This will make it much easier to personalize your offering and suggest the most appropriate products, discounts, and recommendations. However, a single customer view translates into more than just gaining an understanding of every consumer as an individual. It also unlocks the many possibilities of segmentation – dividing your users into groups that share common needs, behaviors, and interests, and are likely to react in similar ways to marketing campaigns and other loyalization efforts.
As specialized pieces of software delivered by verified vendors, all customer data platforms that we mention in this article are also known for a serious approach to security. They are fully GDPR-compliant and based on first-party data – the sort you collect directly from your customers over the course of your interactions rather than purchase from third-party providers.
What kinds of business issues can a customer data platform help address? Here are some examples:
How to increase the average order value?
Which features of your product generate the largest interest in a certain customer segment?
How to target an ad campaign on social media?
How to design a worthwhile A/B test?
How to decrease customer churn?
How to increase upsell conversion rates?
How to attract customers similar to the brand's existing customer group?
As you can see, many possible CDP applications are directly or indirectly aimed at increasing long-term revenue, making it into a potentially high-ROI software investment.
Choosing the right customer data platform for your business
Does a customer data platform sound like something that could improve your business outcomes? Your answer will quite likely be a "yes", but now a new question arises: how to choose a customer data platform? There are several issues that you should consider before tying yourself to a CDP vendor:
What data structures does the CDP accept and what sources is it compatible with? The goal of a customer data platform is to aggregate as many data points as possible to create comprehensive user profiles and develop actionable insights. A CDP that lacks advanced data collection and processing capabilities will be too limited, especially in the long term.
How does the CDP handle identity resolution in the cookieless world? As cookies become less and less of a viable customer identification tool, software vendors need to come up with new ways to ensure that they know whose data they're tracking. This is especially crucial for customer data platforms, as they typically collect information across multiple touch points and channels with the specific goal of aggregating it into a single customer view.
How quick and accessible is the CDP? If the platform you choose is supposed to be of genuine help in taking fast, efficient data-driven decisions across the whole organization, it has to be intuitive enough for specialists in all departments, not just IT. Another key factor is the speed of the tool itself. A top-notch CDP should deliver user profiles, segmentation, and other insights in seconds or minutes rather than hours.
Are the integration capabilities sufficient for your current needs and future ambitions? Ultimately, the usefulness of a customer data platform depends on its practical applications – which usually require the CDP to integrate with other pieces of software and share information with their databases. The more proven integrations, the better, especially if you have ambitious plans for your future business endeavors.
Choosing a customer data platform is not an easy task and multiple stakeholders will likely need to be involved in the decision. Also, the optimal choice will likely depend on the characteristics of your organization. So where to start, given the abundance of solutions available on the market?
Based on our Solutions department's experience in aiding our Clients, Zeotap is a quality customer data platform that scores very high on all the crucial criteria that we just mentioned. You can expect it to "collect, unify, segment, and activate" your data and support your business in multiple use cases aimed at increasing conversions, reducing costs, and building properly targeted marketing campaigns.
Zeotap handles identity resolution with a proprietary cross-platform ID+ solution that is compliant with European data privacy protection standards. It is also equipped with a robust set of integrations for both sourcing and making use of customer information. The Amplitude CDP may be another solution worth considering as the only platform of its kind that is natively integrated with analytics that help discover new audiences and sync behavioral data.
Adam Rakowski, Partner Relationship Manager
We know full well that selecting the right customer data platform is a high-stakes decision that requires a detailed understanding of your organization's unique position in the market. Taking advantage of innovation experts' knowledge can help minimize risk as you make this important choice for your company.
Implementing a CDP is a major organizational effort that requires a dedicated team, budget, and plenty of time. Thus, while the benefits of data standardization are obvious, its effects are usually visible after years rather than months. This fact is often either ignored or blocks the decision to implement a CDP in an organization. There are several simpler steps along the way, though, that can progressively bring you closer to gaining a 360-degree customer view. At Solutions, we know how to design the stages of CDP implementation in a way that will produce business results in just a few months.
Paweł Wasilewski, Head of Solutions