Learn how our vast ecosystem of verified Partners works to your advantage as we collaborate to enhance your company's position in the digital space.
Supporting Clients with Verified Solutions
Internally, the Partnerships department serves to support business departments as well as provide knowledge for development departments.
However, its main goal is to bring additional value to our Clients by supplying them with verified partner solutions for their business and technical needs.
You may rightfully know Future Mind as experts at building custom software, but our capabilities do not blind us to the abundance of functional ready-made solutions that are already on the market.
We realize that creating solutions from scratch is not always the optimal choice . While building custom software is usually the way to go when it comes to fulfilling your business's main purpose, there are numerous aspects of a digital service that do not need to serve as your differentiator.
Handling such aspects with ready-to-use tools is often a great idea, for instance, like in composable commerce – a business-centric approach to building digital products appreciated for its focus on modularity and flexibility. Carefully choosing the best available components for all services that make up your offering is a fantastic way to ensure flawless experience and execution but also guarantee ease of updating and developing your product in the future. So how can you choose all the right pieces for your business solution, be it in commerce or another area?
This is where Future Mind comes in. We help our Clients expand their products and support operational or growth activities by recommending suitable tools and handling the entire implementation process. We continuously analyze new developments in the market, screen the available solutions and verify the most promising vendors so that our Clients don't have to.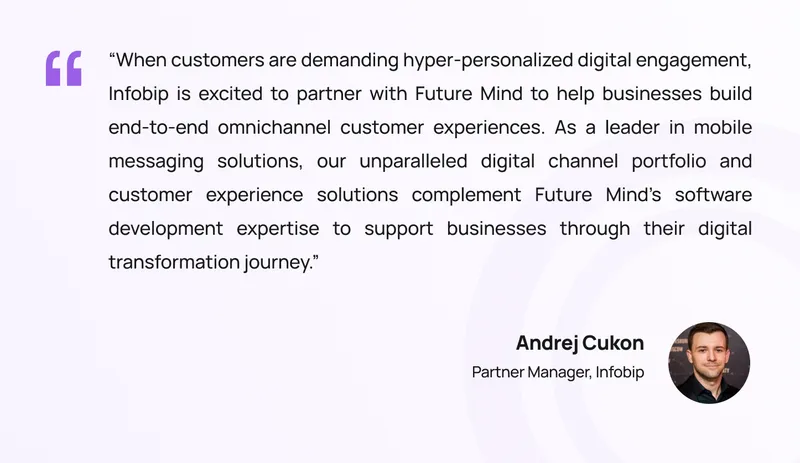 Partnerships enable us to complement Future Mind's superb custom development and consulting offering with technological solutions developed by our Partners. You can view them as building blocks that are easily implemented without having to start from scratch.
Wide Range of Partner Services
Creating efficient processes is often the key to success – and it can be much easier and cost-effective if you use verified tools.
Utilizing off-the-shelf solutions, you let go of the responsibility of maintaining and updating them while leveraging the vendor's highly focused expertise.
Needless to say, it's usually more effective and less time-consuming.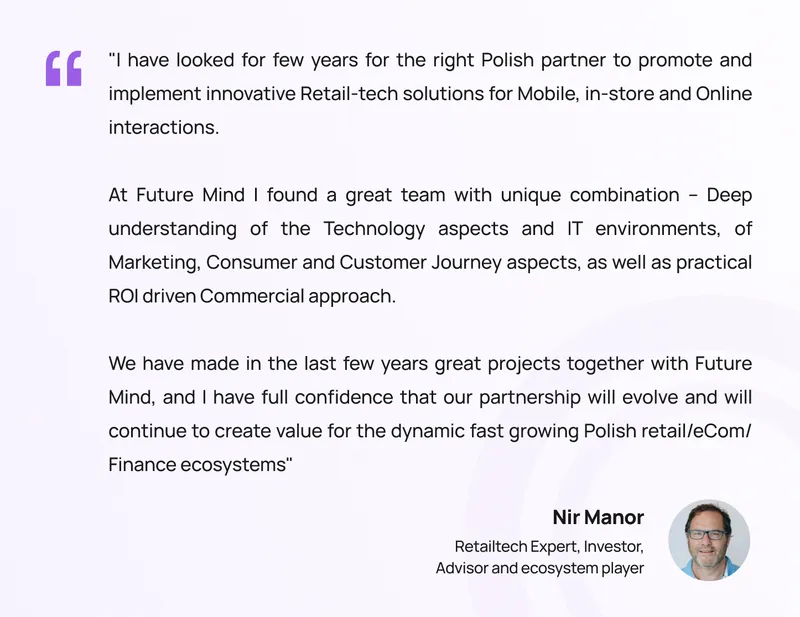 Future Mind's Partnerships feature a selection of verified vendors, chosen carefully by our experts to ensure optimal quality within their narrow areas of focus.
Strategy & Insights. Solutions with an impact on building the company's entire digital strategy and its performance, the selection of which will affect the operation of the company in the digital sphere. E-commerce development platforms, such as commercetools, are examples of such solutions.
Engagement. Solutions in this category are geared toward user interaction, loyalty, or sales. Cutting edge personalization tool Anagog can be used as an example.
Workflow. These are point solutions that address a narrow category of problems for a specific client. An example of this can be Adyen, a leader in payment processing services.
Supporting Clients from A to Z
Do you want to take advantage of our ecosystem of trusted partners? You can expect Future Mind to be present all along the way.
In addition to providing expert support when choosing the right solutions for a Client's needs, we also assist in the implementation.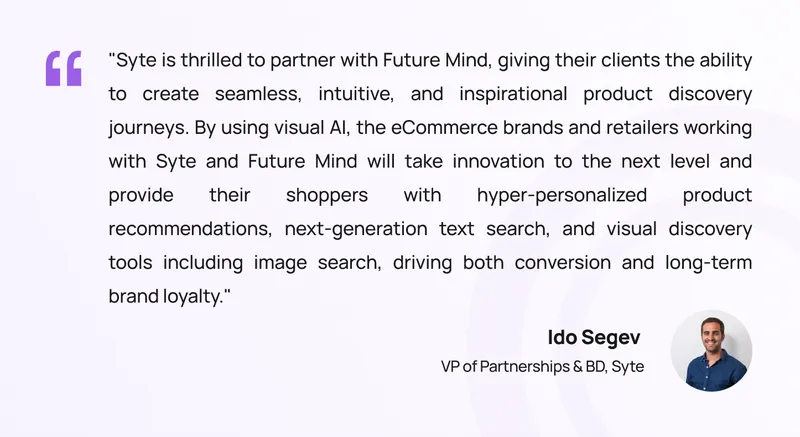 In the initial phase, Future Mind learns all about your company's needs and circumstances and scours current and prospective partners in order to detect any areas of potential collaboration.  Next, we analyze available solutions and select the most suitable ones for your business.
We realize that many decision-makers do not have sufficient technical expertise to make the right decision on their own. They may also lack access to up-to-date, reliable sources.
This is why Future Mind's Clients do not have to do their own research in a difficult area – they can instead use our advisory services and rely on verified vendors without risking it with unproven tools. As part of the process, our team assesses a company's technological capabilities in order to design a solution that meets its specific needs.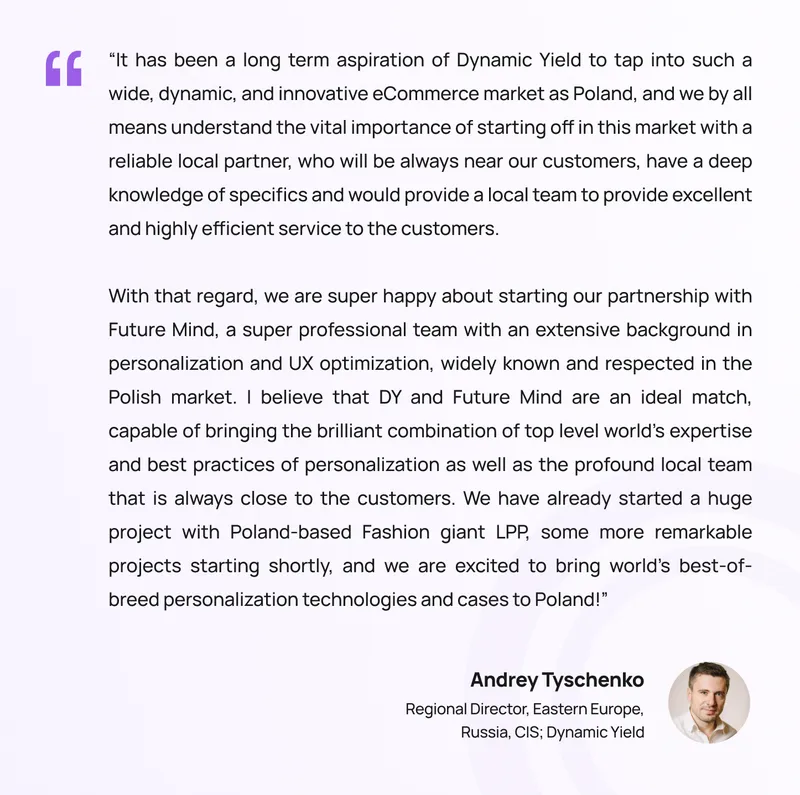 Take Advantage of Our Ecosystem
The Partnerships Department aims to make sure Future Mind's Clients get the best of both worlds – custom-delivered solutions and ready-made tools. Our ecosystem of trusted partners allows us to offer an incredible benefit-cost ratio, as Clients are not pushed to opt for tailor-made solutions where it makes no financial sense and no difference to their value proposition. At the same time, the scrumptious verification process that we use to select partners allows our Clients to minimize risk and ensure the high quality and reliability of their digital products.
If you're interested or want to know more, please contact us so we can get to know more about your project and start working on it together!