If you're involved in the real estate in any way, understanding the proptech phenomenon can give you a competitive advantage. Like many other industries, real estate is currently undergoing a digital transformation that's likely to influence its future. On one hand, the new order stems from the availability of attractive assets and increasing costs. On the other - it's the changing expectations of tenants that shape the industry and cause major changes.
The market players are now forced to look for alternative investments, new business models, and different ways to optimise expenses. Once they're at it, they often use technology to their advantage. How is digital transformation shaping their choices, along with the whole real estate industry? Take a closer look at the proptech phenomenon with our detailed analysis.
Challenges and opportunities in real estate today
Real estate used to be seen as very conservative when it comes to applying innovative solutions in practice. In fact, proptech was still barely mentioned a few years ago. Before we move on to the definition and impact of proptech, though, let's focus on the challenges and opportunities in real estate up-to-date.
The availability of attractive assets
According to the PwC Emerging Trends in Real Estate Europe report, the overall sentiment in the real estate industry is rather positive. Still, the biggest concerns for the investors are linked to high investment asset prices, which also influence the growing risk of misguided investments and associated costs. Given the predicted economic downturn, these issues are likely to become major threats to the property industry in the near future. Fortunately, using advanced analytics to evaluate investments can minimise those risks.
The rise of construction costs
Speaking of risks and challenges: the above-mentioned PwC report also names increasing construction costs (labour and materials, to be exact) as another issue for the real estate industry. Unfortunately, as the demand for construction grows, so does the supply and labour shortage . On top of that, labour productivity in the construction sector still seems to be low : globally, its growth averaged 1% a year over the past two decades, compared with 2.8% for the total world economy. To balance these costs, investors have been raising rental rates and purchase prices over the last few years. Yet, as the end of the current economic cycle is near, the investors won't be able to do so much longer. Considering the low effectiveness of construction processes in general, its optimisation and digitisation could truly make a difference for the whole industry.
The interest in alternative investments
Despite the fact the more traditional forms of investments have been providing consistent returns, real estate companies are now looking for alternatives that would result in even bigger profits. The best prospects for investment and development are currently associated with residential properties. In fact, many investors are already moving towards alternative or niche "residential" areas, like student accommodation and senior housing, but also have an interest in flexible offices and logistics centres. No wonder - all of these alternatives are supported by the demographical changes, technological advancement, and the rise of a "property as a service" model.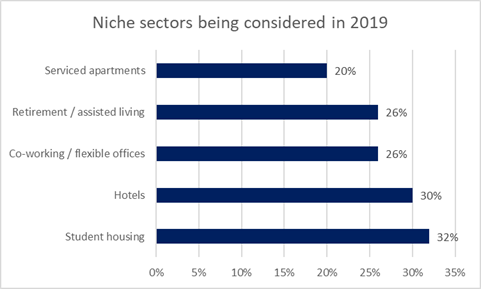 Source: Emerging Trends Europe survey 2019
The change in customer expectations
The importance of great customer experience has been emphasised for some years now, influencing various industries. Real estate is no different, since customer expectations started to change the way properties are constructed, designed, and leased . Actually, property owners strive to plan and manage the available space more effectively - not only to cut costs but also to ensure better living and/or working conditions. Plus, to serve their customers better, they also offer a lot of flexibility (i.e. short-term rentals or pay as you go models) and additional perks, such as discounts on software and offline services.
What is proptech and where does it fit in, then?
Judging by only a few most important challenges and opportunities for real estate nowadays, it's clear to see technology helps to address them. There's even a name for the multitude of tech innovations that have been disrupting real estate markets: proptech.
The term, otherwise known as property technology, was first used back in the 1980s - but it started to gain traction only recently . Nowadays, it affects the way we research, rent, buy and manage properties, eliminating the challenges caused by distance and physical location.
Proptech - market size
Even though the real estate industry is aware of the potential that lies in proptech , its implementation is still somewhat disappointing. Not without reason, real estate is said to be one of the last to adopt advanced tech solutions.
Things are clearly changing for the better, though. Back in 2008, there was only $20 million invested in proptech startups, which isn't much when compared to nearly $7 billion in 2018. And that's not all: the rise of proptech startups is likely to continue, as a 2018 survey of commercial real estate capital investors revealed that 31% of respondents plan to invest in proptech companies , and 26% want to partner with proptech companies one way or another.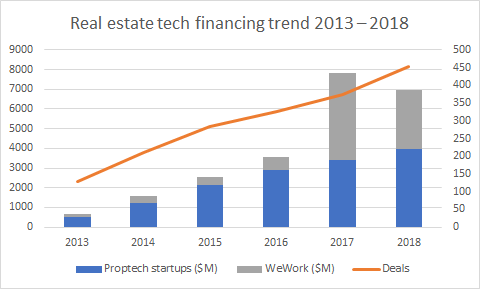 Source: CB Insights, Crunchbase, Statista
At the same time, the number of real estate tech deals worldwide has also been increasing consistently (amounting to 454 deals in 2018 ). Not to mention the average value of these deals, which has been rising steadily as well - especially in last years: from $3 million in 2014 to about $16.7 million in 2018 , to be exact.
Still, the opportunities for digitally-literate companies are driven not only by the size of the market - but mainly by the limited amount of tech innovation at the moment.
Current proptech trends
Thanks to the existing ecosystem, available research and proptech trends, it's much easier to make pretty good assumptions. As more companies capitalise on technological innovation, a few proptech trends are likely to shape the real estate industry in particular:
Big data . Collecting and analysing big data is enabling real estate market players to make more informed and data-driven decisions, especially when it comes to investing in properties, as well as managing them afterwards . That's hardly surprising, given that powerful analytical tools are becoming more and more available. As a result, companies can now use them to find attractive investment opportunities, as well as to store and access information on various aspects of their properties (including their history, ownership cost, current value, details of the neighbourhood or estimated forecast of future valuation, just to name a few).
On-demand economy . To maintain customer satisfaction, companies across industries are striving to provide seamless user experience and instant gratification - and real estate is no different. Fortunately, proptech has the power to meet the expectations of those customers with a here-and-now mentality. Take real estate marketplaces, as an example: these digital platforms allow you to search online for properties to build, buy, sell or rent with ease. They have an incredible potential for saving time and money, not to mention streamlining processes which are fundamental to the industry. The increasing popularity of such marketplaces actually creates an on-demand housing market that aligns with customer expectations these days.
Smart buildings & property management . Smart building technologies are actually named one of the most disruptive innovations that proptech is responsible for . For some time now, IoT has been helping in monitoring and improving living & working conditions, especially when it comes to energy savings. As customer (in this case: tenant) experience has been emphasised, though, IoT solutions are becoming more advanced. This, in turn, makes the smart property management a competitive differentiator for owners and property managers.
Space-as-a-service. The commercial real estate industry is undergoing significant changes thanks to a SPaaS business model. Essentially, landlords start to provide their tenants not only with actual space, but with a set of additional services as well (such as Internet connection, furniture, fixtures, or anything that's needed to use the space more effectively). These facilities are relatively easy to implement, which might be why coworking and co-living spaces are increasingly more popular.
Mobile applications. Let's face it - smart property management wouldn't be that easy and accessible without mobile technology. There are plenty of proptech startups that revolve around mobile apps, allowing their users to keep an eye on their properties and stay connected to the community wherever they are. When it comes to coworking spaces and student housing, though, mobile apps can also help the tenants to take advantage of available facilities, manage their accounts, or even pay rent - which makes the payments much easier (and more timely) for both tenants and landlords.
Property tech startups
It should come as no surprise that these trends also shape the startup scene. In fact, proptech startups seem to be using technological innovations to disrupt many aspects of the real estate industry today, addressing the needs of investors, landlords and tenants every step of the way.
Property search & ownership
For starters, proptech startups are changing the meaning of actually owning or renting properties, as well as searching for offers that are tailored to one's needs. ShareSpace , for example, allows the users to find their ideal office spaces, compare the listings, schedule virtual or in-person viewing, and sign all the documents without actually going anywhere. GetHome is another example. It's the first marketplace in Poland that offers a comprehensive overview of properties for sale and rent, with the best user experience possible: including precise locations, no duplicated offers or ads, and direct contact to those who are responsible for specific listings. At the same time, there are proptech startups like Flyhomes or Opendoor , that make it much easier to buy or sell properties. They basically sell or buy your houses from you, which is why they are actually considered to be "full-stack startups" (tech-enabled companies that offer complete end-to-end services).
Construction
Startups also started to revolutionise construction sites. Kreo , for example, can be used to generate BIM (Building Information Modelling) designs in minutes. This actually gives architecture, engineering, and construction professionals the insights to more efficiently plan, design, construct, and manage buildings and infrastructure. ProperGate is also an interesting case - it's a system that addresses the challenges of logistics coordinators at construction sites and thus, automates delivery requests, synchronises equipment & unloading spots, and monitors the traffic of loaded vehicles. This proves to be useful when constructing properties in city centres in particular.
While on the subject of construction tech, though, it's also worth mentioning Oculo . It allows for recording of the current state of works on construction sites, reconstructing them in 3D, and mapping photo evidence automatically to their floorplans, all thanks to state of the art AI algorithms. This way, project managers, quantity surveyors and health & safety inspectors can access an interactive 360-degree view of their sites, virtually assign tasks and RFIs, collaborate on projects in real-time, and supervise them remotely - which is especially important nowadays.
In fact, Oculo has been helping the construction industry to adapt to the new reality and work remotely. Due to recent restrictions imposed due to the COVID-19 pandemic, only critical staff are allowed on construction sites. As a result, management can't access them to carry out inspections, assess the progress, or show it to clients. Even with the quarantine being over, the situation won't simply go back to normal. The construction industry is forced to adapt to the new reality, and this becomes much easier with solutions like Oculo. Here's more about their efforts to keep construction sites safe during the coronavirus crisis .
Design & management
Last, but definitely not least: proptech startups offer innovative solutions when it comes to property design & management as well. Gooee , among others, is here to prove it. Its team has developed an IoT Building Intelligence Platform that unifies building control, communication, and data analytics - which results in a number of economic and operational benefits (energy savings, space optimisation, or occupant wellbeing and productivity, just to name a few). Actually, the more real estate companies use data and technology to their advantage, the easier it gets to create a blueprint for optimal property design that can't be easily replicated and popularised.
The future of property is now
The future of property technology seems both bright and difficult to predict, as proptech is just starting to make an impact. One thing is certain, though: the future of real estate is nearer than you might think.
Up till now, companies within the industry were not seen as the ones that could largely benefit from digital transformation. In fact, real estate used to be a quite conservative industry. Things are clearly changing for the better, though, and first movers will most likely benefit from the new order the most. Emerging proptech trends are already giving all real estate companies a chance to minimise costs and risks when running a business - not to mention that tech-enabled services can improve tenant experience and thus, foster the relationships with clients.
The good news is: you don't have to turn your business upside down to take advantage of what proptech has to offer. You can expand the asset base or enhance the capability of existing assets, try testing out new business models in practice, and draw conclusions from all your efforts.
If you're looking for the most effective ways to leverage the proptech phenomenon, we're here to help you .