In recent years, the Internet of Things has grown from an innovative (and often incomprehensible) concept to a prime concern for many organisations. And that's hardly surprising, given the potential of IoT applications. In fact, there are certain industries that can benefit from implementing such solutions in particular. Explore the best IoT examples and see whether you could take advantage of similar applications in your business.
What does IoT stand for?
Even though its definition may seem quite complex, the Internet of Things is actually a pretty straightforward concept. It basically means connecting "things" (such as devices, machines and even people or animals) to the internet.
So, you already know what IoT stands for, but why is it genius? Simply because internet connection means being able to send and/or receive information between devices - even without any human interference. It might not seem like much at first, but the Internet of Things has the power to reinvent your business and improve your life in many aspects. And it's probably why it's been on everyone's lips these days.
The current state of the Internet of Things
Rumour has it (actually, Gartner does) that there will be more than 20 billion IoT devices by 2020. No wonder - apparently, 127 "things" are being connected to the internet every second, and many of these IoT devices become a transformative force for different companies. In fact, IoT is expected to drive the greatest business transformation in the upcoming years, according to KPMG's report. The top benefits from IoT adoption specified by the respondents were improved business efficiency, increased profitability, and cost reductions.
Similar benefits of enterprise IoT were found by McKinsey & Company. 92% of its survey participants believed that it would have a positive impact on their organizations in the next three years. Actually, the research showed that IoT could enhance multiple functions. According to the respondents, service operations (especially diagnostics and prognostics, predictive maintenance, as well as monitoring and inspection) and manufacturing (resource and process optimization, asset utilization and quality management) were the departments that would produce the most value for the organisations.    
The expected benefits from IoT are most likely the reason why 86% of enterprises plan to increase their spending on IoT in 2019 and beyond. Consequently, according to the IDC report, worldwide spending on the Internet of Things is forecast to reach $745 billion in 2019 and even surpass the $1 trillion mark in 2022. It's clear to see that IoT is not just hype anymore. It's now regarded as one of the most important technology to invest in, which was already noticed by PwC in its Global Digital IQ® Survey back in 2017.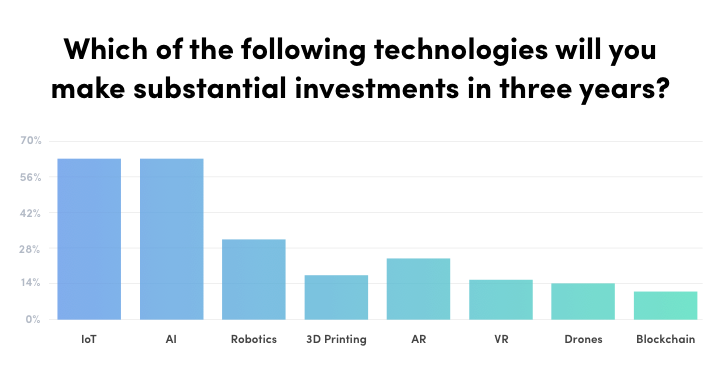 Speaking of surveys - in 2018 Forbes Insights partnered up with Intel to conduct one among the executives familiar with the IoT development and implementation within their organizations as well. According to their findings, manufacturing, healthcare, and financial services are leading industries when it comes to applying IoT in practice, followed by retail and transportation. The increasing IoT spending within different industries seems to be reflecting that to some extent.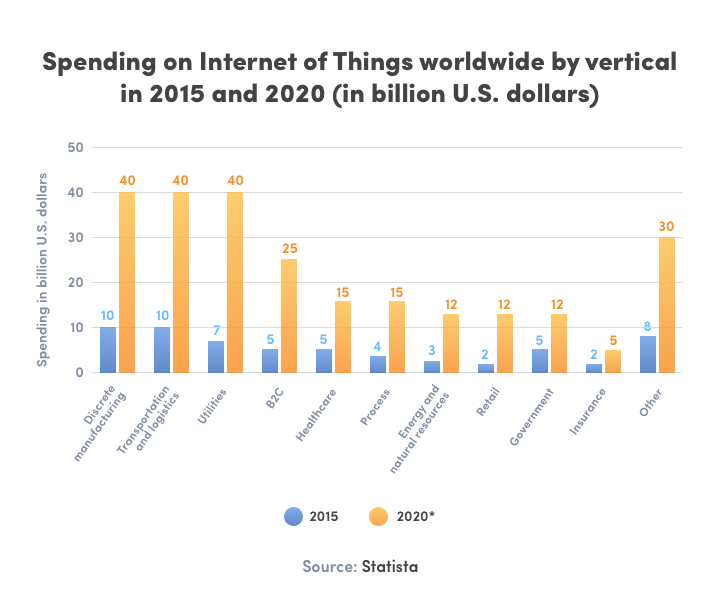 Nonetheless, the network of powerful IoT devices has been expanding so rapidly, that it now requires more effective and secure management of the massive amount of data it generates. Even though this can be challenging for many organizations and IT professionals, successful examples of IoT applications prove that it's worth the effort.
The use of IoT across industries
IoT applications can easily transform any organization, no matter the industry. Still, there are some types of enterprises that can benefit greatly from integrating the devices with internet connectivity. Here are some IoT examples to inspire you.
IoT in retail
Retail may not be the first industry that comes to mind when thinking of successful IoT applications. In reality, however, connected devices have been used by major store chains and retailers for a while now - even though some IoT examples used in the industry are not exactly retail-specific.
Take beacons, as an example. They allow sending personalized messages and offers to customers within their reach, or analyze the routes customers take in the stores in order to display products better. A few popular store chains in the US seem to be well aware of that - Macy's, Urban Outfitters and Timberland have been using beacons nationwide for a while now. No wonder - proximity marketing is still gaining popularity, which is why many startups are offering Internet-connected tech for retailers, including Leantegra.
Actually, IoT devices provide access to huge amounts of data on customer activity and engagement in real-time. This is exactly what most retailers strive for, as it helps them increase sales. The more they know about the customers, the better they can serve them - it's as simple as that. The only issue is that it's much more difficult for brick-and-mortar stores to apply in practice than for online retailers - and that's precisely why IoT makes a big difference in the retail industry. By the end of 2019, 79% of retail organizations are expected to adopt IoT technology one way or the other.
IoT applications in real estate
With an estimated revenue for intelligent building technologies of $15 billion in 2018, the market is expected to reach $67.5 billion in 2027. This means that IoT is likely to change the manner of constructing and managing properties in a few years. Developers have already become more aware of the fact that applying IoT devices in commercial buildings can not only reduce costs but improve conditions for tenants at the same time. Not to mention the ability to keep an eye on the equipment and act fast when there's any maintenance work needed.
Basically, IoT applications in real estate revolve around optimizing building conditions, understanding how workspace is being used to improve the comfort and productivity of employees, as well as improve energy efficiency. It's all possible thanks to lightweight IoT sensors that can easily be installed in any building, in order to monitor all these conditions and improve them in the long run. Gooee, among others, was founded to help out with that. Being a building intelligence platform, it unifies building control, communication, sensing, and data analytics to create more smart buildings.
IoT in the transportation industry
It may not seem like it at first, but transportation is the second industry in terms of investments in IoT. Actually, it is expected to spend $40 billion annually on IoT by 2020. That shouldn't be surprising given that more and more delivery and public transportation vehicles are being equipped with IoT sensors, which monitor their parameters and alert the owners whenever there's any repair needed. Apart from vehicle health, though, it's also possible to optimize other factors, such as fuel consumption. This not only helps reduce costs but also eliminates the need for manual reporting.
Luckily, consumers can now take advantage of "connected car assistants" to have more knowledge about their vehicles. Automatic is a perfect example of such an IoT solution, as it monitors engine health and makes car maintenance less of a struggle. Similar IoT devices can easily be implemented by businesses within this industry as well. Companies with large fleets of vehicles are often prone to extraneous maintenance costs, especially when those vehicles suddenly break down. With powerful IoT solutions, it's possible to manage their performance at all times.
Examples of IoT in healthcare
Connected devices within the healthcare industry mean better patient experience and increased operational efficiency for hospitals, which is why some of the facilities around the world have already been taking advantage of them. As a matter of fact, there are many successful examples of IoT in healthcare - starting from medical equipment that gathers relevant data about patients and shares it with their doctors, up to IoT devices that track staff and inventory in real time.
Still, remote health monitoring is probably the most popular example of IoT in healthcare. By keeping an eye on the patients in real-time, it's possible to spare them frequent hospital visitations and even improve the outcomes of the medical treatment. Amiko was created exactly for that purpose - it's a health monitoring system that uses IoT and AI-powered mobile solutions to enable and support care professionals with quality data about their patients. Such IoT applications do not only keep patients safe and sound but make it easier for physicians to perform their daily tasks. And that's probably why more than 160 million IoT devices are estimated to be implemented worldwide within the industry by the year 2020.
The use of IoT in manufacturing
Believe it or not, but the manufacturing industry leads the IoT revolution and already has some exciting examples of IoT applications in place, including intelligent machines and augmented wearables. So far, however, the investments are mostly made in two fields: optimization and cost savings (integrating IoT sensors into production lines in order to optimize core manufacturing processes), as well as customer behavior (studying how exactly customers use certain products). These investments have to be substantial since industrial IoT devices are expected to add $14 trillion to the global economy by 2030. It's actually great news since the use of IoT in manufacturing can help people work more efficiently and safely while boosting production.
Speaking of the best examples of IoT solutions in manufacturing, though, FogHorn is definitely one of them. It's said to be the only "real edge intelligence solution in the market today", which delivers comprehensive data enrichment and real-time analytics that lead to transformational business results. There must be some truth to that since the startup has already partnered up with Cisco, Hewlett Packard Enterprise, and Google Cloud, just to name a few.
IoT and financial services
Interestingly enough, IoT applications are not that popular when it comes to financial services (yet). Apparently, only 15% of the decision-makers view IoT as their organization's most exciting project in the future. At the same time, financial services companies can gain a lot from applying IoT solutions.
For example, by collecting relevant data and gaining insights into client assets, it's possible to better understand customer behavior, prepare personalized offers, as well as calculate the insurance score or Usage Based Insurance much faster and more accurately. Thanks to the Metromile app, for example, you can now save on pay-per-mile car insurance. In fact, the insurance segment is expected to hold the largest market share when taking into account the use of IoT in banking and financial services.
Applying IoT in practice
With new ways of leveraging the potential of interconnected devices constantly being implemented across industries, it's clear to see that many organizations find IoT solutions valuable. Once you know what IoT stands for and what opportunities it brings, it's tempting to use it in your organization as well. Before you dig deeper into the Internet of Things, check how to develop an IoT product from scratch and consult your idea with specialists.