More than enhanced CX – unleashing the full potential of artificial intelligence
It's been evident for a while that AI helps to level up the retail industry. But what makes generative AI different and what should you know about it?
Generative AI's impact on business extends far beyond the spotlight-stealing solutions that transform customer interactions with digital products. From an organizational perspective, the genuine value of AI lies in applications that enhance efficiency and reduce operational expenses, which is critical in the current economic environment.
One of the versatile capabilities of generative AI is its ability to streamline a wide range of tasks, all the while enhancing the precision of their execution. According to McKinsey's forecasts, this technology has the potential to increase global revenues by 1-2%, translating to $400-660 billion annually, particularly within the retail and FMCG sectors.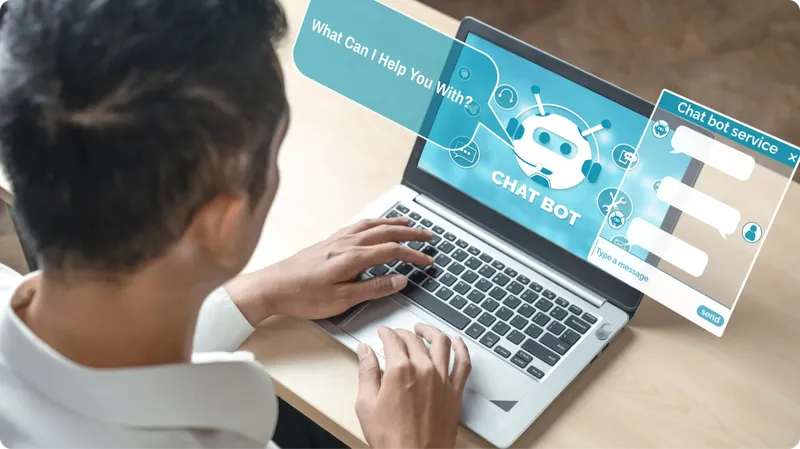 To fully harness the potential of AI within your business, it's crucial to understand its inner workings beyond the buzz. At its core, artificial intelligence aims to empower machines to perform tasks like perception, reasoning, learning, and decision-making at a level akin to human capabilities.
The core of AI technology resides in what are known as foundational models – robust machine learning constructs that are developed using extensive datasets and techniques such as supervised learning, unsupervised learning, and reinforcement learning. Notable examples of these models include OpenAI's GPT-4 and Google's PaLM.
Foundational models can serve as the solid foundation upon which specialized models, such as those designed for computer vision or natural language processing, are crafted.
The potential of generative models in retail

A prime example of this technology is ChatGPT, capable of generating new content pieces or snippets of code. However, this is just the tip of the iceberg when it comes to the possibilities that generative AI holds. The technology has no limitation to generating graphics, video materials, music, or even synthetic voice recordings.
The ubiquity of models like GPT, renowned for their text generation capabilities, has made customer service optimization the most prevalent business application of generative AI. Companies are eagerly embracing chatbots, meaning tools capable of engaging customers in natural conversations through online chats.
These AI-powered bots, trained on company-specific data, can answer basic inquiries and, if needed, direct customers to human agents. Such a solution lightens the workload for employees and enables customers to connect with the brand at any time, day, or night – a crucial aspect to consider when taking into account the shopping habits of younger consumers. Companies like Carrefour (in France), Zalando, and Instacart have already implemented chatbots and other brands are increasingly considering similar moves.
Generative AI goes beyond just chatbots
While I appreciate the usefulness of chatbots in business, my main goal is to present alternative, less obvious applications of generative AI. Leading companies are actively developing and experimenting with innovative tech solutions, and the outcomes they're achieving offer insights into the next phase of the possible digital transformation of retail.

At a basic level, this involves generating descriptions for listings, but the possibilities are much broader. Today's technology allows not only the creation of comprehensive product description catalogs without human intervention but also the generation of personalized descriptions based on consumer preferences. This way, customers are provided with information that is most relevant to them when making purchasing decisions.
Generative AI also provides a cost-effective way to elevate the visual layer of product offerings. The technology can, for instance, generate images of clothing on virtual models without the need for real photoshoots. Additionally, artificial intelligence can be used to merge materials into interactive catalogs that enable users to view products on three-dimensional models.
Virtual fitting rooms are another example of captivating AI business applications employed by companies like Google and Zalando. Users simply need to provide basic information about their measurements and body type, and artificial intelligence will then demonstrate how a specific piece of clothing would fit on their body. This solution effectively addresses the persistent concerns some customers have about purchasing certain product categories online.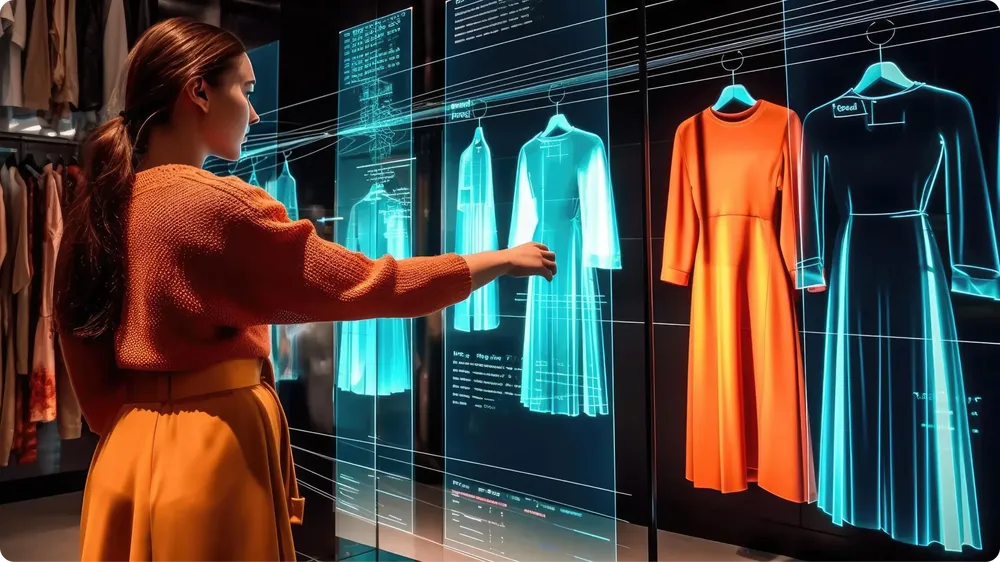 Harnessing gen AI for operational efficiency
So far, I've mainly looked at technologies that enhance CX. However, generative AI also holds the potential to optimize internal processes within companies.
Walmart, the American retail giant renowned for its innovative initiatives, has adopted artificial intelligence in its supplier negotiations. Given the immense scale of its operations, it became unfeasible for employees to engage in negotiations with over 100.000 companies. As reported by Harvard Business Review, in the past, up to 20% of Walmart's contracts were built upon identical templates. By utilizing software developed by the California-based startup Pactum, the corporation automated the process of renegotiating agreements, leading to savings of 1.5% and an average payment extension of 35 days.
Glean is a Silicon Valley startup whose solution holds the potential to streamline the daily work of millions of people. Its AI-based knowledge base allows employees to browse company resources much more efficiently and save time that would otherwise be spent to manually navigate through documentation and files on shared drives. Employees simply need to pose a question to the AI assistant, and it will find the required information, present it in an easily understandable format, and provide sources for further reference.
Although, at first glance, the implementation of AI-based solutions might not appear to have a significant impact on a company's financial results, easy access to information can boost employee efficiency and reduce turnover. As outlined in a report by Panopto, new employees dedicate up to 12.7 hours per week seeking assistance from colleagues. On the other hand, experienced employees squander an average of nearly 5.5 hours waiting for responses and nearly 8.5 hours dealing with problem-solving, experimentation, setbacks, and the search for hard-to-find information necessary to complete tasks.
The assistance of AI in daily work has the potential to mitigate these operational inefficiencies. Both startups and technological giants already recognize this opportunity. At the end of August, Google introduced its assistant, Duet AI. The tool is designed to summarize documents and, based on instructions and files on Google Drive, autonomously create tables, presentations, or charts.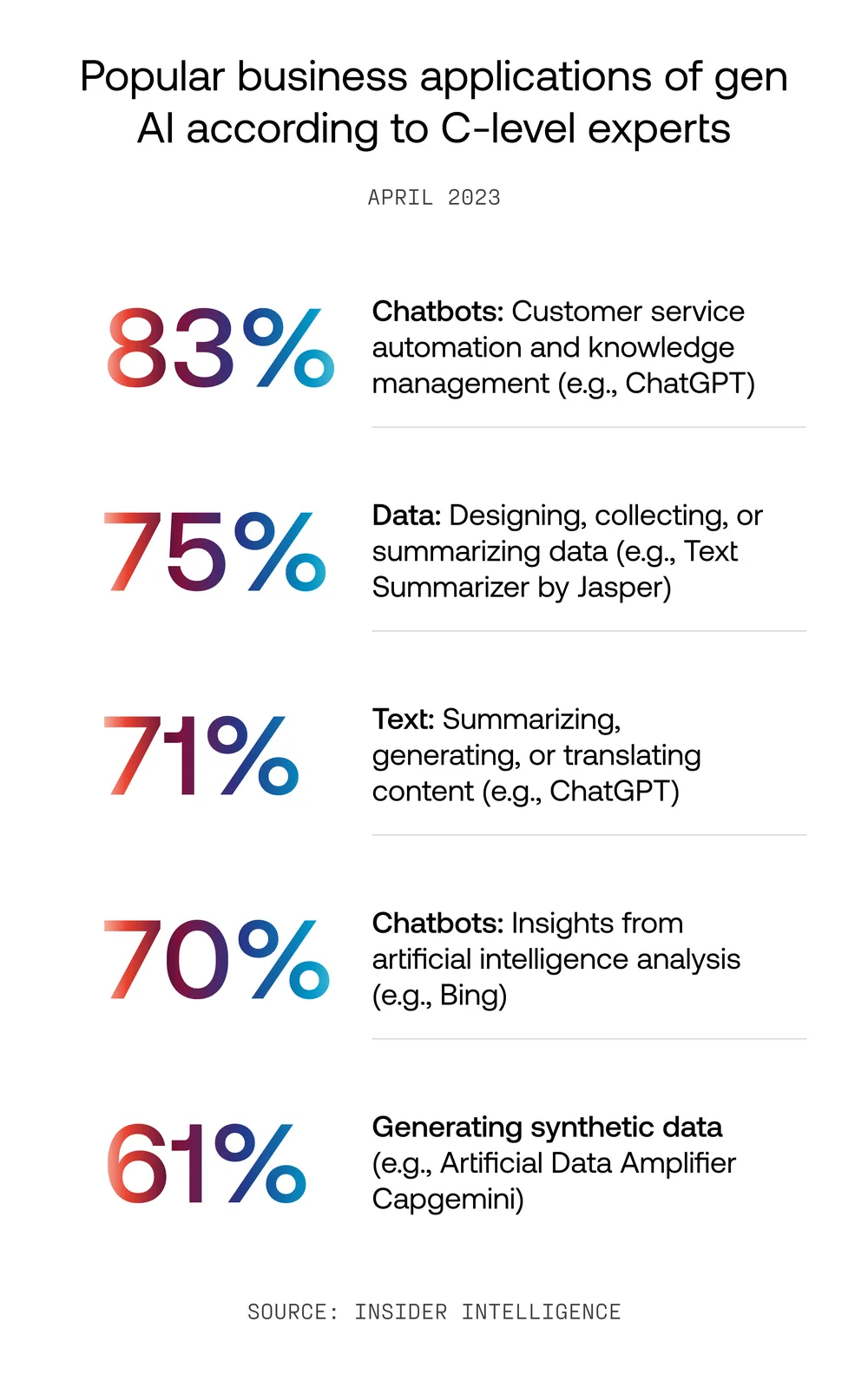 The generative AI journey has only just begun
According to the latest edition of our Barometr Retail survey, a whopping 87.5% of Polish retailers believe that AI is a game-changer for the industry.
The solutions mentioned in this article already hold the potential to enhance user experience and operational efficiency within organizations, and these are merely examples. The possibilities of generative AI are continually expanding, thanks to projects developed by numerous startups.
What's on the cards for retail? Some of these innovations could become standard tools for most companies in the next decade, akin to how we currently use text editors and message communicators.
However, it's vital to keep in mind that generative AI is just a subcategory of artificial intelligence. While some of the proposed solutions may appear novel at the moment, the industry's progress in the coming years could advance as dramatically as it did with the widespread adoption of computers, mobile phones, or mobile internet.