Oct. 10, 2018 3 min read
Probably not every one of you knows that we run a newsletter. This post is actually the newsletter that we sent to our subscribers last week. So, if you were not among them, enjoy!
We return after a hot summer (for Future Mind it wasn't the weather only but also many ongoing projects) with our summary of what occurred in the world of business and technology in the last few months.

I'll start with a subject that business press (along with other journalists) found very attractive in the first half of this year — yes, cryptocurrencies. In most articles you could read about surprisingly high rate and later sudden plummet. But without understanding blockchain (technology that enabled most cryptocurrencies to be created) you'll have a hard time understanding the real value of cryptocurrencies. That is why I've decided to explain it in What is blockchain and how can it change marketing?
After cryptocurrencies' value has diminished by 75% the subject seems no longer as electrifying as it was. Did the bubble pop? By analysing the overall value of cryptocurrencies we could agree with that conclusion. But when we compare it with the dot-com bubble we'll realise how "low" of a rate cryptocurrency boom has achieved.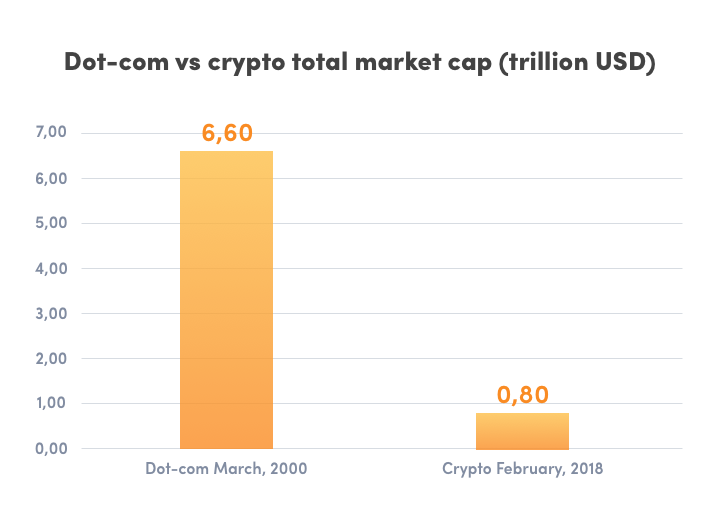 I'll risk it and bet that the real "crypto bubble" (by "crypto" I mean ICO as well) is yet to come. Until then many good and bad ideas concerning blockchain technology are bound to come to life. That is why it's pointless to focus on big headlines. It's better to concentrate your attention on projects that bring real value and are bound to survive the slump, just like the Amazon did in the year 2000.
Since I've already mentioned worthwhile projects I should acknowledge here that, thanks to blockchain open-source, software developers are now better equipped for financing their projects as well as transforming libraries into services. This will result in more successful open-source projects, like Magento (acquired by Adobe this summer). This phenomenon is vividly described in the a16z podcast.
This year hot weather in the Northern Hemisphere started in April. Could it be that it was caused by Spotify's initial public offering — most awaited IPO of 2018 (well, not exactly an IPO but read on)? Probably not, but it's still worth to learn more about how Spotify creates value and find out what Daniel Ek thinks the future will hold for the music industry
Let's stick to the entertainment market topic for a little while longer. What will the constantly developing streaming industry bring? Probably new, more complex television that will consist of VOD platforms.
Last paragraph about the Media! Forget about the Pareto principle when it comes to digital platform users, welcome the 1% economy and focus on power users. Twitch user base analysis shows us a perfect example of such a model.
Twitch is one of the most interesting Amazon purchases. Does this company hold teams from acquired companies to the same standards that they apply during recruitment? Learn what 3 questions Amazon recruiters ask themselves when deciding whether to hire an applying candidate.
What companies will shape the future? It's highly probable that those chosen by the World's best accelerator — Y Combinator. Below you'll find 20 most promising ones.
Demo Day 1. Demo Day 2.
We couldn't forget about the new iPhone. On the one hand, nothing revolutionary happened, on the other hand, Apple is remarkable in its Hardware as a Service strategy. Read two different analyses of that company: connecting the Apple Dots and two years old article by Steve Blank on why Tim Cook is a new Steve Balmer.
By the way, Android is now 10 years old.
I have mentioned at the beginning that we were busy in the past few months, therefore, it's time to boast. We have completed several new projects. We've helped Generali improve insurance policy sales with a mobile software app. We've also introduced a new service — UX Audit. If you have any doubts regarding your product's performance, read our article about the benefits of UX Audit.
If you liked this post and want to receive meaningful content about business and technology every month sign up for our free newsletter below.
See you next month!