Our new visual identification may seem revolutionary, but in reality, a steady, quiet evolution has been ongoing at Future Mind – and our rebranding catches up with the values and competencies we have had in place for years. Our long-term Clients are fully aware of the deeper meaning behind this transformation, and now, we're excited to also share it with everyone else.
We have come a long way since 2008
When we founded Future Mind in 2008, our principal focus was software development. We contributed to our Client's business success by building custom technological solutions, mainly mobile applications and web platforms.
This model worked well and allowed us to accomplish great things. However, as we gained experience and competencies by supporting companies in their digital transformation endeavors, we realized that "Building reliable products from scratch" was just a small part of what we are capable of.
Our potential has always been higher, and we quickly began to fulfill it by supporting our Clients with a wider scope of services: not only providing quality applications but also helping them meet their business goals in the digital world.
We have transformed from a Software House into a Digital Advisory & Delivery – we still build reliable products, but we also do much more than that. Now, we engineer digital business. We look for human-centered solutions to complex challenges and drive positive change within organizations. Our state-of-the-art software? It's a tool for reaching that goal.
Digital Advisory & Delivery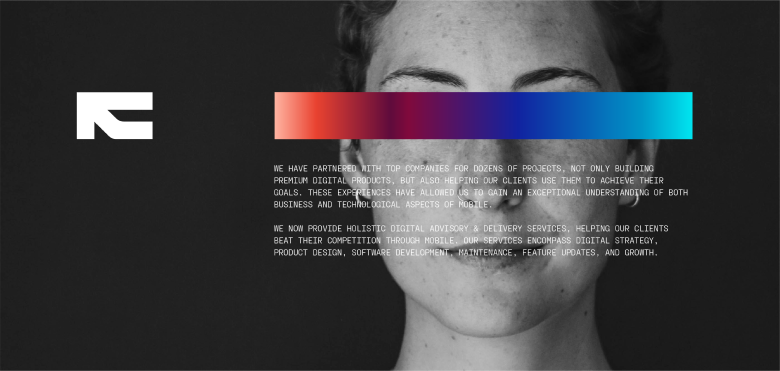 Our Digital Advisory & Delivery competencies allow us to bring new digital solutions to the market for our Clients much faster and in a more coordinated manner than the alternative – hiring multiple vendors who only provide separate pieces of the puzzle.
Consultancies, design agencies, software houses… Managing so many contractors generates friction, which can be easily avoided by working with Future Mind – a reliable partner that takes responsibility for the entire project, from concept phase to launch, maintenance, and growth.
Throughout the years, we have developed and acquired competencies that allow us to support our Clients at every stage of digital transformation. On top of continuously expanding our software development expertise, we have built a robust Consulting division composed of leading specialists in areas such as digital strategy, user research, and product design.
Despite starting small, we have grown into a cohesive group of 130 experienced designers, software developers, and consultants with an overarching understanding of business. Our headcount and expertise allow us to achieve truly remarkable results, but our scale is still small enough for us to offer our Clients personalized attention and a sharp focus on their goals.
We keep expanding, but our commitment to our Clients' business success remains unchanged. It is what has allowed us to get to where we are now, and it is what will allow us to get even farther.
Supporting Clients across the entire value creation chain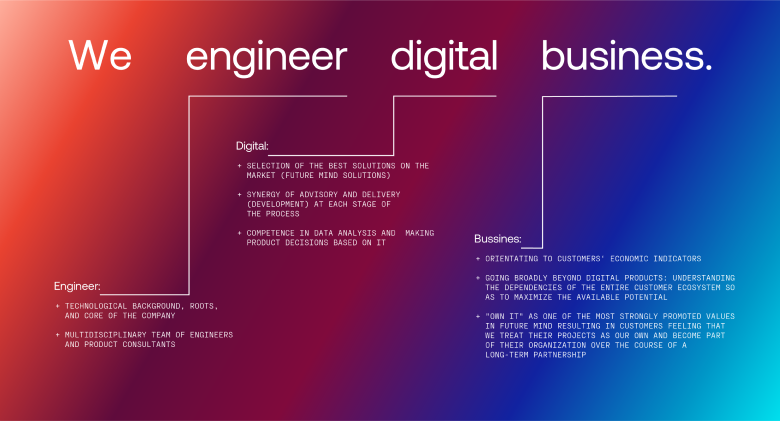 Our Digital Advisory & Delivery offering consists of a diverse selection of services that can be categorized into three business lines:
Digital Advisory
We help Clients conceptualize, prioritize, and design digital solutions as well as plan out their development and implementation.
Product Delivery
We design, set up, and develop cutting-edge digital products and services such as mobile apps, web platforms, e-commerce, and IoT solutions.
Product Growth & Maintenance
We ensure software security and continuous product maintenance as well as support Clients in planning growth activities and building future feature roadmaps.
On top of partnering with Future Mind, we also enable our Clients to take advantage of Solutions: a powerful business network of trusted software vendors. In some cases, using a ready-made solution is preferred to building one from scratch. What are the right choices for your organization to meet its goals? Our experts are here to advise you at every step of the way. We engineer digital business so that you can succeed. Thank you for your trust. Let's achieve even more great things together.