Aug. 7, 2018 3 min read
At Future Mind we are lucky to have a dynamic team of professional technologists, dedicated to working closely with our clients. We believe that we are fully equipped to build software products that will enhance your company's recognition, help with everyday business operations, boost sales and increase safety. We can effectively serve you with a combination of mobile, web and IoT software development solutions, and more.
We are growing rapidly
In the last half of the year we've managed to complete projects with brands like Żabka, Generali, Philips or LifeTube. We are constantly working on new products with previously mentioned companies and will soon publish updates about it on our website. As of now we can say that we have many big projects ahead of us.
In the first half of 2018 we've managed to reach 80,16% of our revenue level from the year 2017. Our EBITDA increased by over 400%. This results came from service provision only, not from our mobile software. We separated service activities from our products to better manage the profitability of the business related to building the software. Employment and sales scaling played an important role but effectiveness boost as well as meticulous software development planning were main factors in bringing up our revenue and margin growth.
Clutch's recognition
Our team will always give its best and we can proudly say that our meticulous attention to detail has truly paid off. It recently came to our attention that Clutch has taken note of our commitment to building excellent software applications by acknowledging us as one of the leading app developers in Poland in one of their latest press releases. We are proud to say that out of hundreds of Polish software development companies present on Clutch we are recognised as one of the best.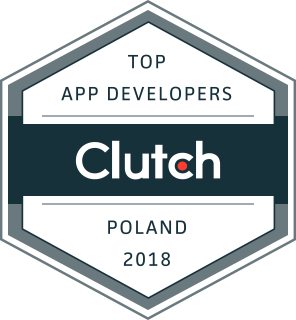 In order to make the B2B networking process simpler and smoother, Clutch performs research on each company on their website to give other businesses the opportunity to access information without consuming their own time and effort to conduct the same research.
Each company that works with Clutch maintains a profile containing reviews from past clients, along with information and other data gathered by Clutch's team. The attractiveness of a firm is enhanced with the accumulation of positive reviews, high ratings, awards, and leader board mentions.
Due to our team's ability to productively cooperate both with each other and with our clients, Future Mind has maintained a 4.9 out of 5 star rating on Clutch. Many of our amazing clients have expressed their satisfaction with our work, taking the time to graciously write such positive reviews as:
"We feel comfortable when we go to them with a piece of work." — Andrew Fuller, Founder, Tradewize.
"Future Mind remained reliable and involved throughout every project we've worked on." — B2B Product Marketing Manager, Coffee Retailer.
"The technical work, design, and willingness to deliver good quality were excellent." — Peter Hasenstab, Project Manager, Relayr.
In addition to being promoted on Clutch, Future Mind was also promoted by The Manifest, Clutch's sister website, in their publication on the top Polish UX companies!
We are eager to continue establishing new relationships that, through our combined efforts, will produce results that solve real-world problems. To find more stellar reviews concerning our past projects check out our Future Mind profile!