In 2022, the average person spent 5 hours per day on their mobile devices. While a big chunk of this time was dedicated to social media, live streaming apps, and chatting with friends, statistics clearly show that consumers have also come to love mobile shopping. Retail m-commerce sales are predicted to reach $534.18 billion, or 40.4% of ecommerce sales, by 2024.
So, as you may already know from part two of our Investing in Mobile Series, a mobile website won't cut it if you want to win at digital sales; your company would likely be wise to invest in a mobile app. In 2023, there is one particular app type that's worth looking into: aptly named superapp. So, what are superapps, how do they work, and what's so special about their revenue generation capabilities?
What is a superapp?
A superapp's number one goal is to satisfy a wide range of user needs by building a brand ecosystem full of valuable features that all serve as complementary channels for revenue generation.
You want to make consumers reach for your digital product as often as possible, and the way to achieve it is by providing users with the ultimate level of digital convenience: serving personalized experiences that make people's lives easier across a variety of contexts.
Superapps encompass many features and products within a single app. Often, they start out as an app that was originally intended for one purpose but has grown in functionality over time, usually, by offering a set of so-called miniapps – developed internally or through a 3rd party integration.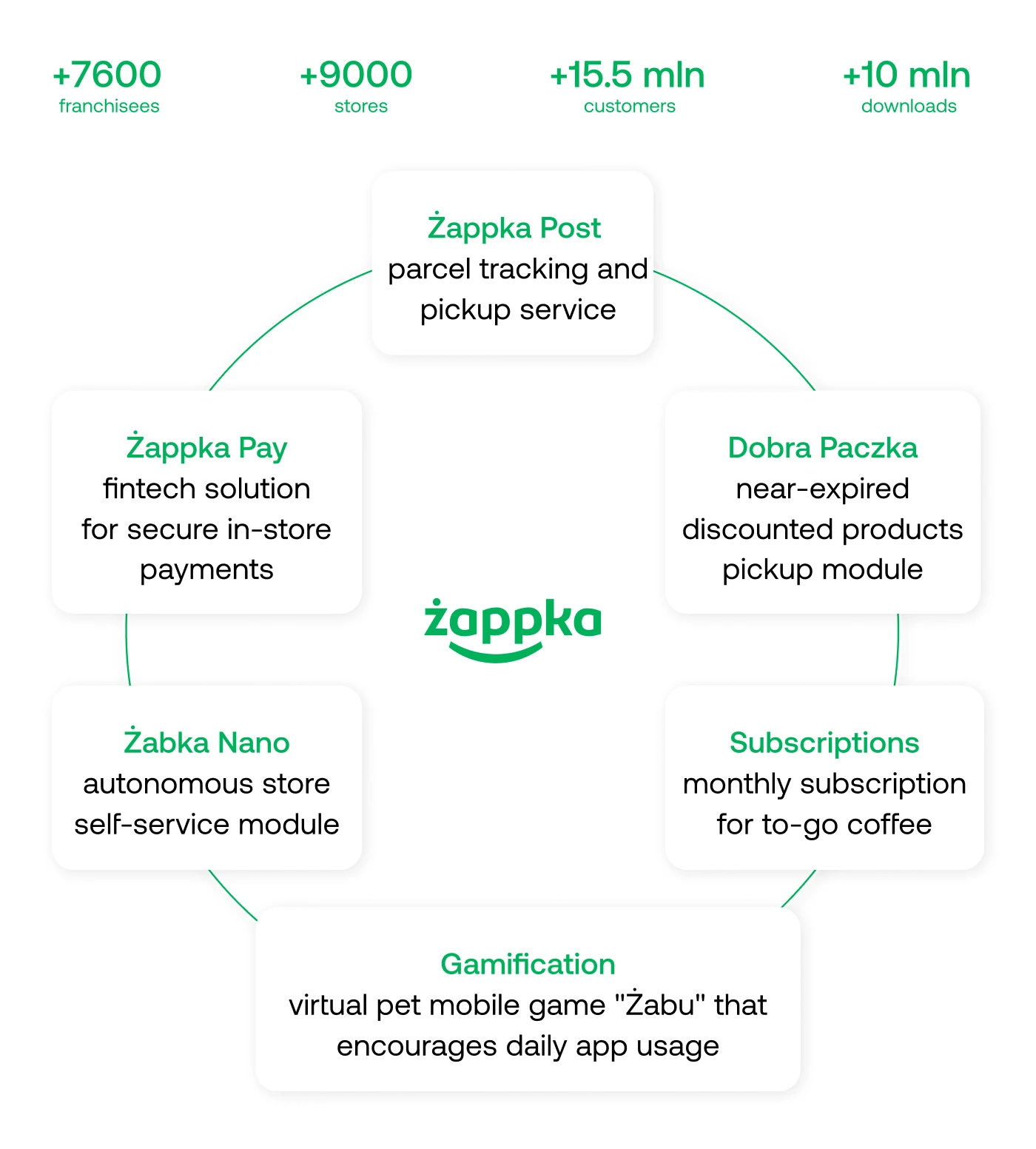 How do superapps work?
Gartner came up with a great real-life analogy and compared superapps to Swiss army knives. With a corkscrew, nail file, and much more built in, these knives serve multiple purposes and can be flipped out in a number of common everyday situations.
The same can be seen here, though in a digital setting: we're talking about a single app that helps consumers with a number of use cases and spares them from jumping between different applications and their mobile browser… while keeping them glued to your or your partners' brand offering.
From a technical perspective, superapps are best built with a composable commerce approach in mind. Given that they tend to be feature-rich and complex, they are perfectly suited for a modular architecture instead of a more traditional monolithic structure.
Super apps can be broken down into two main categories, which support two distinct business models: horizontal and vertical:
Horizontal, when you expand your services and products to multiple categories.
Vertical, when your app concentrates on one market or category and expands on the features available within.
We will discuss vertical and horizontal superapp examples later on.
Superapps are on the rise
Until not long ago, we had mostly heard of superapps only in the context of Asia. The graph below demonstrates the growing number of WeChat's MAU between the 2nd quarter of 2011 and 3rd quarter of 2022. The Chinese superapp first surpassed 1 billion users back in 2018, and has been growing the number of active users year-over-year since.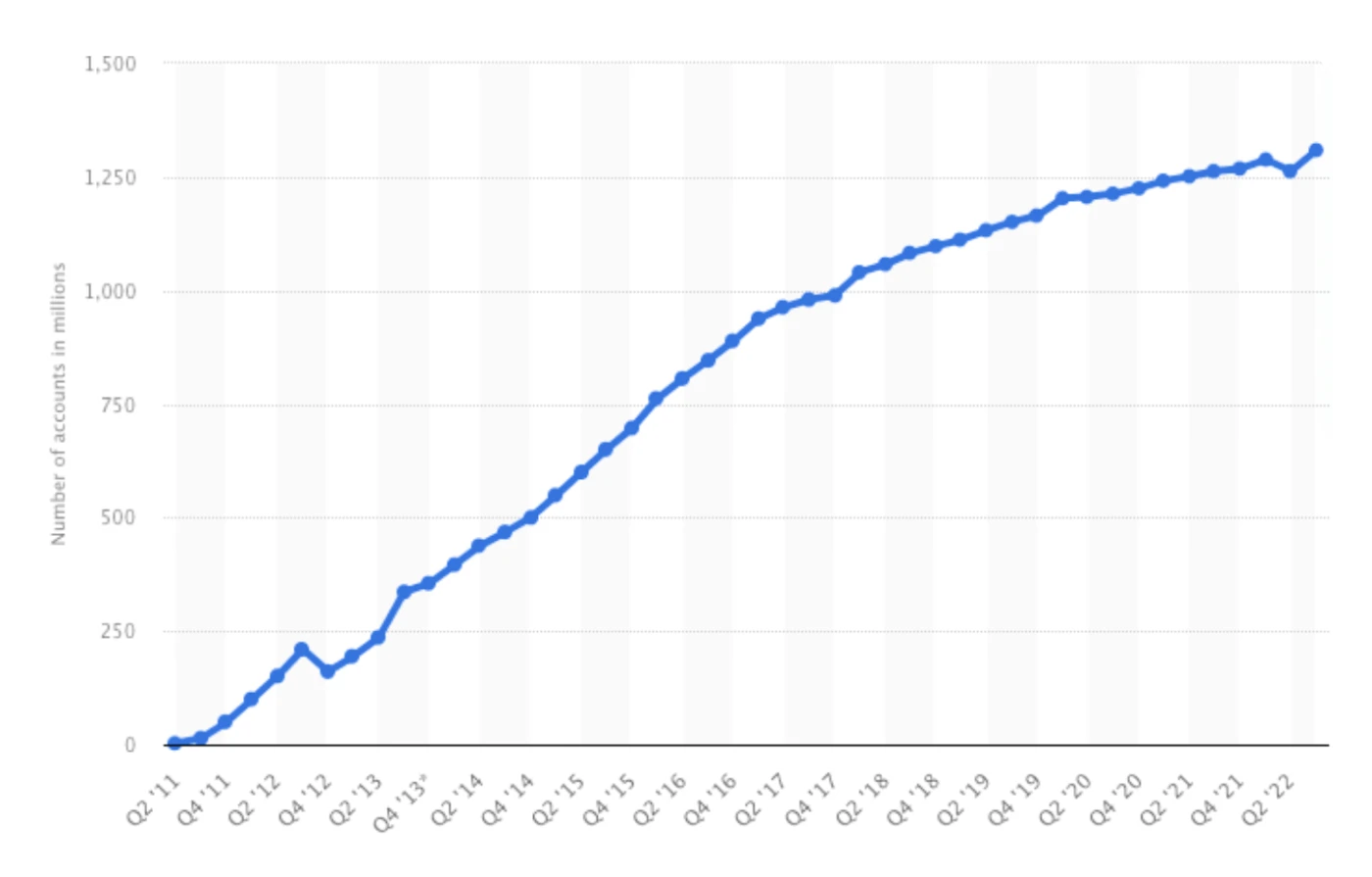 Source: Statista
However, several major companies from the Western hemisphere are already going in a similar direction. Walmart, most widely known as a retail giant, has become the majority share owner in ONE, which is set to become the largest fintech superapp in the West. Uber is another great example of a Western company that has long been known for its superapp ambitions. On top of car rides and food delivery, it announced plans to include trains, buses, planes and car rentals on its app, with the General Manager for Northern & Eastern Europe saying Uber wants to become "a one-stop-shop for all your travel needs."
Gartner calculated there are 2.68 billion monthly active users (MAU) globally for the world's top 15 superapps – and according to the company's Top Strategic Technology Trends 2023 report, which featured superapps as one of the top ten trends for this year, "by 2027, more than 50% of the global population will be daily active users of multiple superapps".
It goes to show that superapps aren't likely to be a passing trend. Rather, they may become a whole new approach to m-commerce – in the West as much as in the East.
4 reasons to consider embracing a superapp strategy
Superapps have many advantages that help boost revenue and achieve better business results. Here's how they can help you in 2023.
A step towards becoming a data-driven company
By creating a superapp, you significantly boost your company's data collection possibilities as consumers interact with your product across a wider range of contexts. Tracking and analyzing in-app behavior and user demographics/psychographics helps you decide where to go in terms of product development and customer experiences. It also produces more evidence for business decisions, which can drive more revenue and help build competitive advantage.
Easier personalization
According to McKinsey, 71% of consumers expect personalized interactions and 76% feel frustrated when companies fail to deliver them. With their wide range of features and powerful data collection capabilities, superapps are a great way to provide personalized experiences in two main ways:
Users can immerse and 'mold' them into what they need. They can explore new miniapps and, in some cases, customize superapps to only display the features they are interested in.
The data from users' in-app behavior and miniapps' usage makes it much easier to produce tailored suggestions.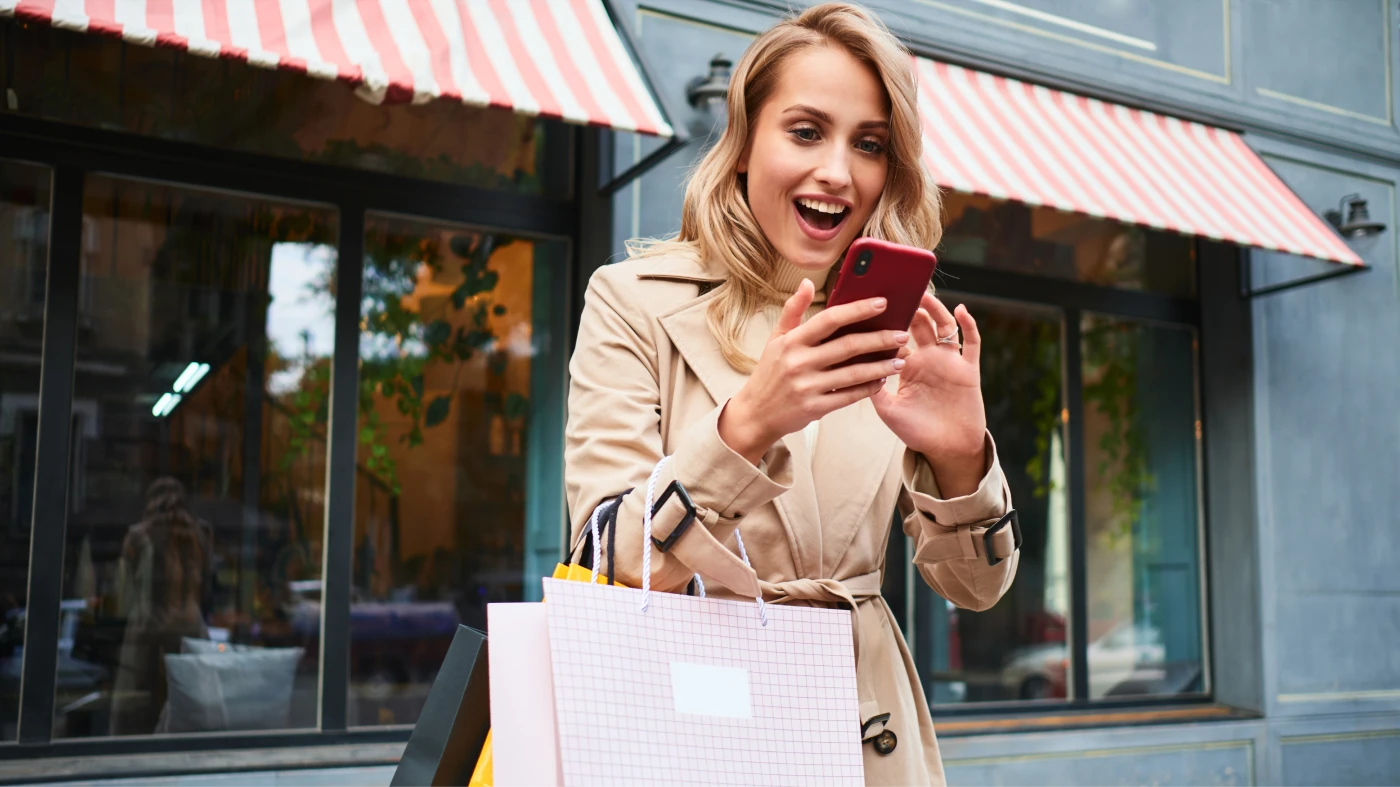 Enhancing loyalty
Many retailers begin with basic m-commerce apps and offer coupons and discount codes to keep users coming back. However, this doesn't always work, and most definitely isn't cost-effective. Instead of lowering prices, businesses can offer more value and convenience with features like:
Digital returns
Easy access to customer service
Self check out
Showing the closest stores and which products are available in each brick-and-mortar location
and much more. Superapps are a great tool to explore new functionalities and deliver them to users.
Generating more profit from up-selling and cross-selling
Superapps can boost your sales in a two-fold manner. Firstly, you can expand the range of your own products and services, and secondly, you can expand your offer through partnerships and affiliate programs with 3rd party providers.
In order for this to work, you need to provide users with carefully selected, personalized offers. Luckily, as you already know, superapps are a goldmine in terms of user data.
For instance, if a fintech app notices that a user pays by card in various locations, they might deem them interested in travel insurance provided either by the app owner or one of its partners. The brand could then send a personalized notification about the new in-app service.
As you can see from these advantages of superapps, if used correctly, they can be a core part of your business's success. In 2021, the average person used 47 apps per month. With a superapp, you make your customers' lives more convenient as they can avoid jumping back and forth between screens and you lock them into your brand's ecosystem.
This means higher retention thanks to a virtuous circle where the more time users spend in your app, the more data you get to personalize their experiences even better and do yet better at convincing them to use your offering in more contexts.
Inspirational superapp examples
WeChat
WeChat is a great example of a horizontal superapp. It's one of the world's most popular communication apps, which allows billions of users to interact daily via instant messaging, voice, and video calls. But it's way more than that – it's also the largest Chinese superapp. It's not an overstatement to say that it's been a pioneer in the field, with many businesses from the Western hemisphere drawing inspiration from their success.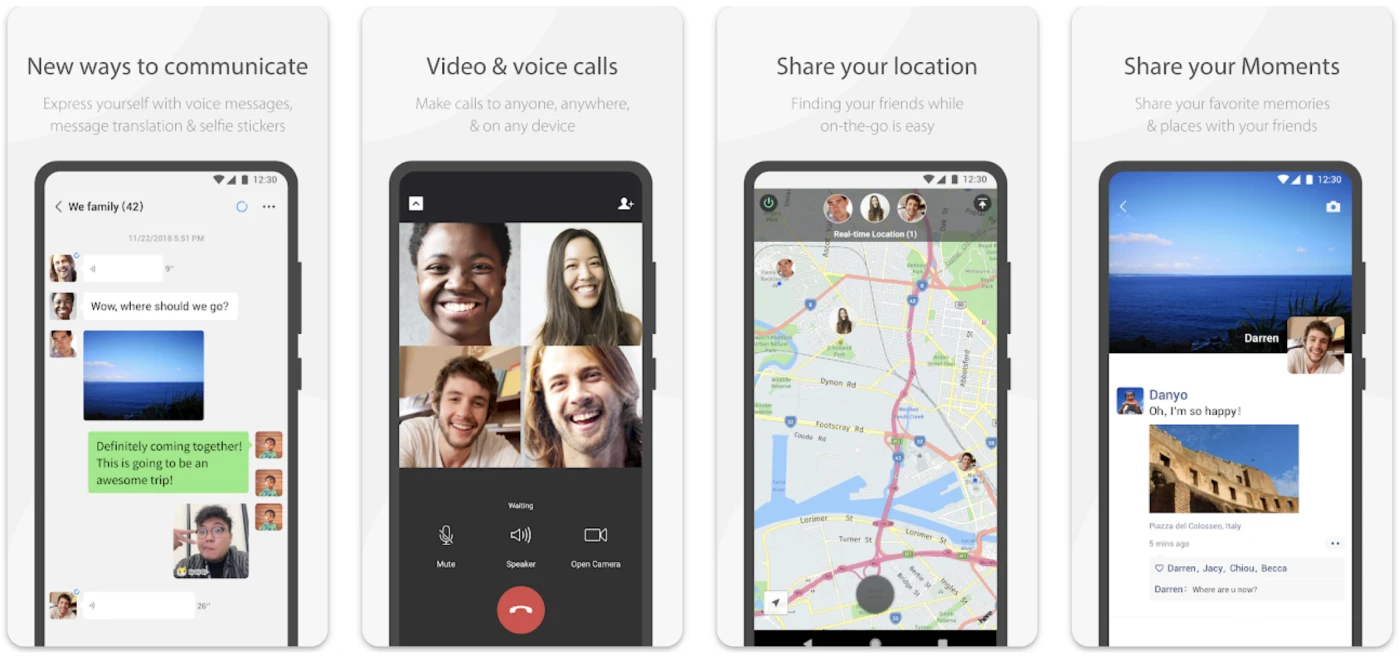 Source: Google Play
So, what stands behind WeChat's success?
WeChat aimed to address the problem many Chinese users were facing – jumping between screens to get daily tasks done. The number of features it offers is incredible; here's just a few things that WeChat users can do without leaving the app:
Calendar bookings for catching up with your friends
Ordering your restaurant food ahead
Booking a taxi ride to the restaurant
Getting walking directions to the restaurant
Paying for the meal and splitting the costs with your friends, too
Built-in custom emojis and pictures
Seeing what's on at the cinema
Buying cinema tickets
As you can see, WeChat functionalities are now a mile long. They all aim to keep users on the platform, removing the need to go back to the home screen to choose another app. It is a true Chinese superapp leader across its widespread population.
Given all of the above, it's hardly surprising that WeChat is also one of the biggest intelligent data gatherers in the world. The wealth of information the company holds enables it to understand demographics and user experiences on a truly macro scale.
Żappka
Żappka is a Polish superapp that tailors bespoke offers to retail users. Over the years, the company has grown from a grocery store chain into one of the most advanced m-commerce players on the market. Żabka (which is the parent company's name) has integrated a wide range of features.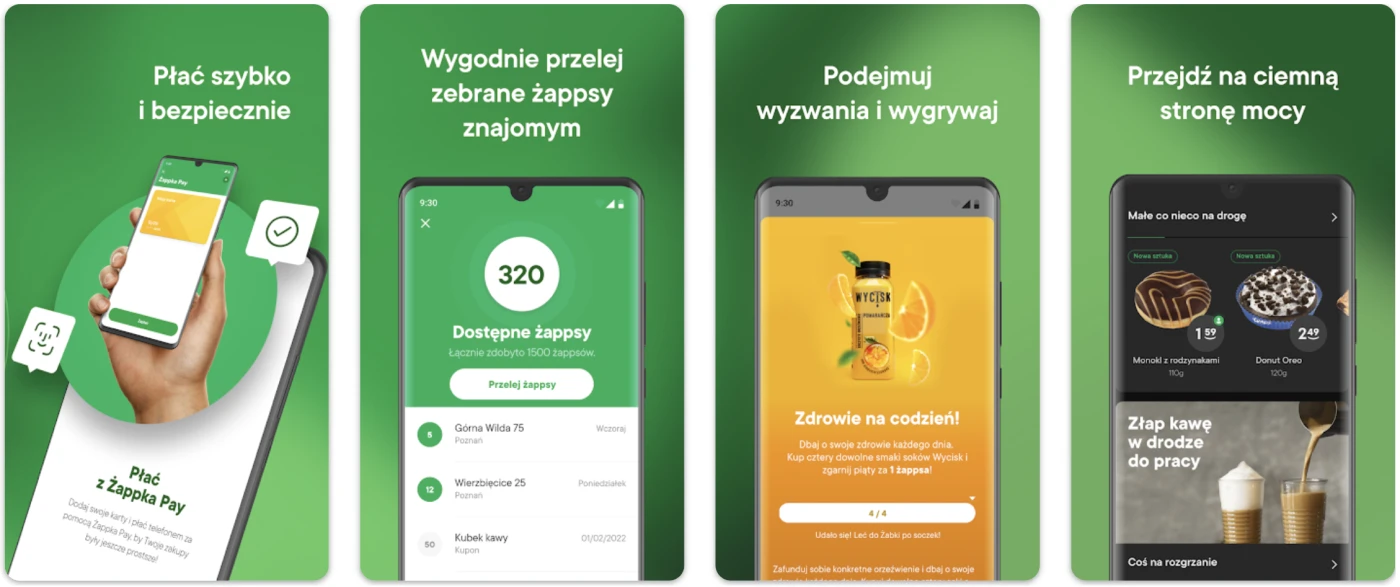 Source: Google Play
Top features of the Żappka superapp include:
Żappka Post – parcel pickup functionality integrated with leading delivery services
Żappka Pay – financial solution for making payments via the app
Żabka Nano – autonomous store access module
A loyalty scheme for shopping – points and rewards system where users exchange points for prizes and can transfer the internal currency, Żapps, between accounts
Bespoke deals for customers – the integration of AI allows Żabka to dive deeply into customer preferences and provide a personalized offer, including tailored discounts.
App-only promos – the discounts are exclusive to the mobile app, encouraging customers to use it
Subscription services – users can subscribe to get their morning coffee at any Żabka store without having to pay at the point of purchase
GPS location – users can be alerted of nearby stores, providing information such as open times and available services
Close-to-expiry food pickup functionality
Żabka is undoubtedly one of the best examples of how a convenience store branch can transform into a superapp powerhouse in just a matter of a few years. To date, the app has been downloaded 10 million times. To find out more about how we've supported Żabka's digital transformation, check out our case study here.
Revolut
Revolut is a great example of a financial supperapp. The company initially served B2C and B2B clients, offering a simple virtual account with preferable exchange rates. Since then, Revolut has expanded its offer to multiple new services like travel insurance and loans. It also developed Revolut Business, which offers high-end banking services for companies. That being said, it appears that the company is just getting started.
In late 2022, they launched a new feature, i.e., an instant messaging module. It will allow European and US-based customers to communicate and send payments to fellow Revolut users via chat. In an announcement to the press, Nikolay Storonsky, Revolut's CEO, has made the objective clear – in the next several years, the company wants to become one of the world's biggest financial superapps.
Source: Altfi
Existing payment apps out there have memos and payment request features, but none have chat functionality except Revolut.
Revolut uses a customer feedback formula to introduce new features. They gather app behavior data and use questionnaires to find out what their customers want, then integrate these features. This makes them a true pioneer in the superapp space.
GoJek
In 2009, GoJek was a call center for helping clients with parcel and taxi services. Fast forward to 2022, and the Indonesian superapp offers more than 20 different services. They include the ability to book ride-sharing, taxis, shopping, and a host of services. Home cleaning, haircuts, massages, and much more can all be accessed within a single app.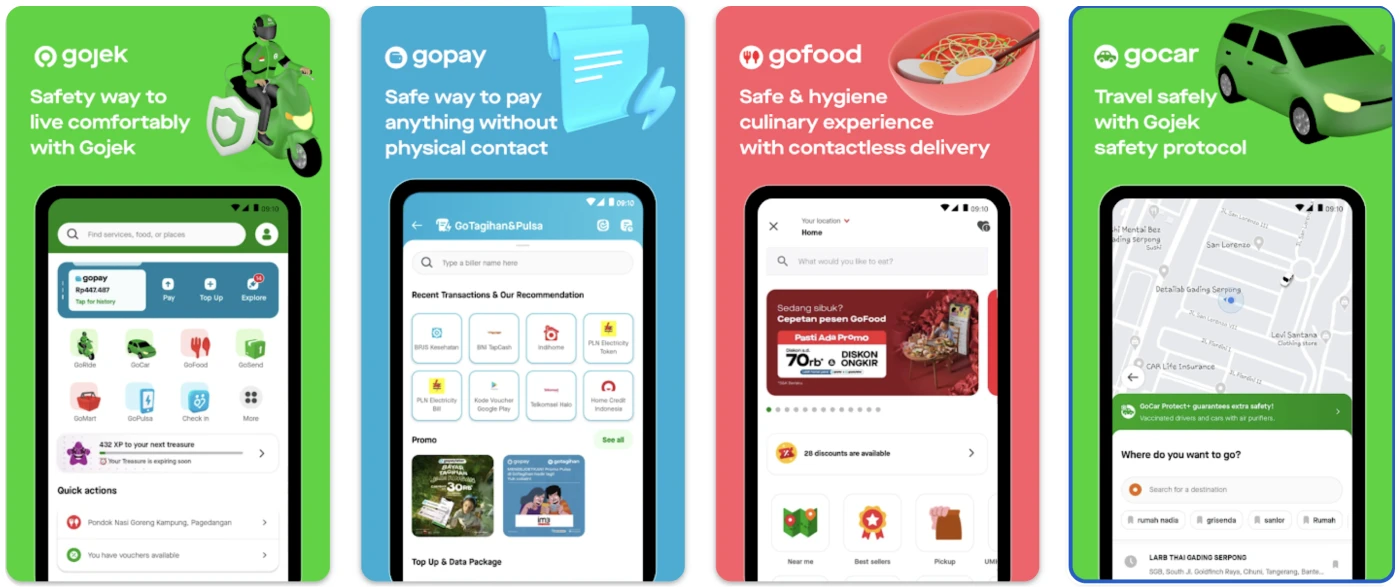 Source: Google Play
Serving the South East Asian market, GoJek operates in Indonesia, Vietnam, Singapore, Thailand, and the Philippines. It's also Indonesia's first privately held startup company with a several billion dollar valuation. Despite its huge size, the GoTo group that owns GoJek keeps recording impressive year-on-year growth, with a 30% increase in gross revenue noted in Q3 of 2022.
Can your company leverage a superapp?
Digital products are unquestionable leaders in driving business growth and revenue, and adopting a superapp strategy is an option worth considering. If your app fulfills multiple needs all the while providing incredible user experience, you can achieve much more in terms of user retention, customer lifetime value, and healthily diversified revenue streams. Your brand may have the potential to become an entire ecosystem and reap huge rewards – consider exploring this path with experts who have already helped turn regular apps into superapps.