Technology is shifting at the speed of light. So are the consumer expectations. This means that if you want to keep up with the pace and steal some of the 5 -hour daily screen time of mobile users, it's going to be thirsty work.
To convince a potential customer to buy in 2023, you have to go way beyond generic recommendations and conventional solutions that today mean segmentation rather than personalization in fact. 76% of buyers feel frustrated if they don't get personalized communication. Messages like "see what others have bought and what you might like" aren't enough. Achieving conversion goals is feasible only if you provide users with tailor-made, context-sensitive recommendations and offerings that are attuned to their needs, motivations, and situations. This can be done by using cutting-edge software to hyper-personalize the digital experiences of customers.
Did you miss the last article in our Investing in Mobile series? Click here to read How Superapps Can Boost Your Revenue in 2023 to learn why it's worth building a brand ecosystem this year.
What is hyper-personalization?
Hyper-personalization leverages artificial intelligence and real-time data to create highly granular and person-specific content. Used right, it can become the foundation for building lasting customer relationships and the most critical imperative for better-than-ever sales.
This approach makes it possible to design personalized interaction scenarios that are only triggered when the user and their real-time behavior ticks a given segment, predefined with individual characteristics and so-called micro-moments.
Why conventional personalization won't cut it anymore?
The need for personalization stems from two seemingly contradictory economic behaviors. Companies offering products or services want to sell as much as possible at the lowest possible cost. This leads to automation and standardization of operations, thus boosting economies of scale.
The other side of the story is that one-size-fits-all solutions are rarely successful. Customers expect to receive products and services that are their own and precious . Fortunately, preparing an offer that caters to the tastes of individual customers simply cannot require you to modify processes each and every time you want to sell something. In a world of mass production and media, we can use software to prepare product recommendations that are likely to appeal to a specific customer segment and hopefully also to an individual.
This is where conventional personalization, which involves acquiring information about each app user, such as their age, location, and gender, enters the equation. Statistical algorithms scrutinize available in-app user behavioral data (clicking on a product, adding it to favorites, placing it in a shopping cart, etc.) and correlate it with information about thousands of somehow-similar customers. This makes it possible to identify overlapping elements and decide which products are most likely to meet the expectations of specific customer segments.
So, to put you in the picture – conventional personalization is when a 30-year-old woman from Warsaw buys a striped blouse. Based on that, she'll see recommendations of other products purchased by other 30-year-old ladies from Warsaw who also put that blouse in their shopping cart. This seemed to do the job for some time, bringing enormous uplifts in online sales during the '90s and '00s. But that time is long gone.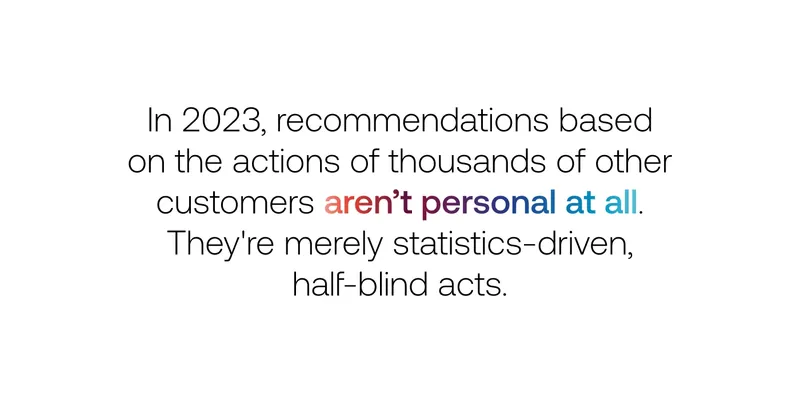 Conventional personalization has at least a couple of significant drawbacks. One of the majors is that it tends to keep promoting the same popular products that have already been bought by similar customers. This means that products that may be a better fit for a particular user won't have a chance to reach them. It's a vicious cycle that strengthens the position of certain products in the algorithm just because they get more exposure.
If brands don't prioritize personalization enough or aren't cautious enough about how they approach the topic, they can lose up to 38% of their customers. In other words, they fail to meet their conversion goals because buyers don't receive relevant and context-sensitive recommendations.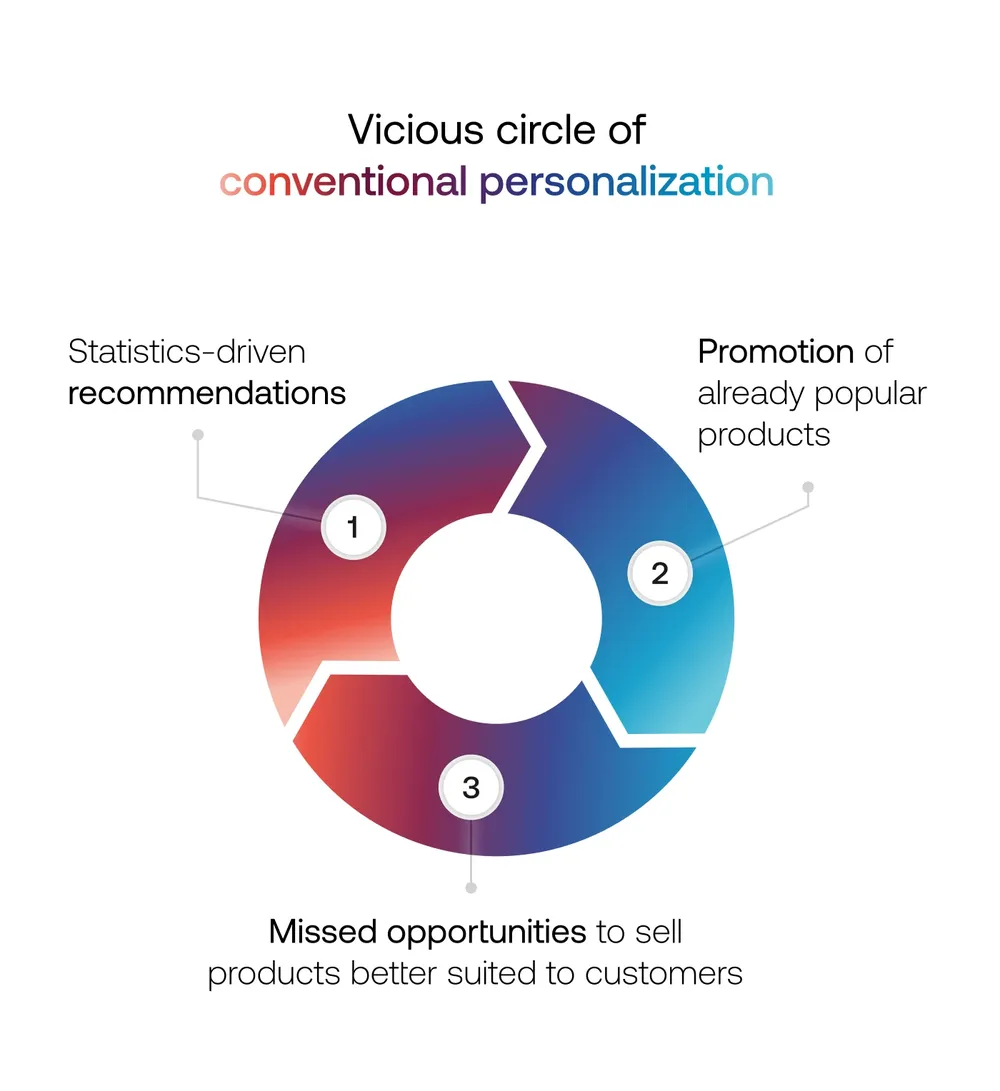 It's all about the human, not the user
Users interacting with your app or products provide deep-dive information about their individual tastes, styles, and current needs. Hyper-personalization, also known as hyper-profiling, goes beyond basic facts like age and location to provide more granular, detailed, and contextualized data. This allows more effective utilization of user data that enables personalizing content and tailoring it to specific needs, situations, preferences, locations, etc.
Artificial intelligence (AI), machine learning, and predictive analytics are extensively used to understand and anticipate customers' behavior, thus taking their digital experience to the next level.
While conventional personalization is confined to basic data, hyper-personalization leverages much more detailed information to create a complex picture of the customer's interests, behaviors, and needs.
Despite widely discussed customer data security and privacy concerns, people expect to receive personalized content more than ever . With the majority of web traffic now coming from mobile devices, users often research products while in the store. This means that mobile apps become catalysts for combining m-commerce and offline data.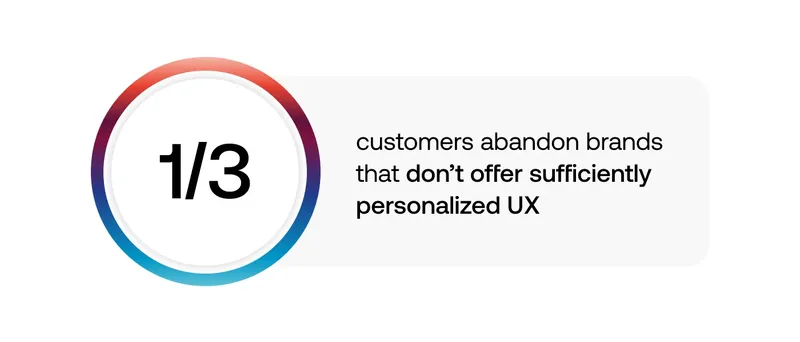 The digital and physical worlds are getting all mixed up, making innovation go superfast and putting the extra heat on to optimize and personalize experiences.
By identifying the best time to engage, hyper-personalization helps to boost conversions by up to 250% . Apps can send a notification to someone boarding a bus or waiting at a stop, asking them if they already have a ticket and addressing their needs at that moment.
33% of Barometr Retail respondents believe that hyper-personalization is a technology that can drive the most conversions in m-commerce. What's more, most marketers ( 63% ) say that customizing offers makes more people buy stuff. But, to really do it right in 2023, you have to do more than just say someone's name or give them recommendations based on historical data.
Providing customized and strategically priced offers that drive user engagement can only be done by making decisions contingent on predictive analytics, historical data, and real-time customer behavior. This is when hyper-personalization comes into play. It makes it possible to master experience journey management and wow customers across all touchpoints with the brand, while maximizing revenues.
Today's technology already allows us to monitor the behavior of humans, rather than users. The question remains – what's in the cards? Is it likely that we'll see personalized interfaces and products anytime soon?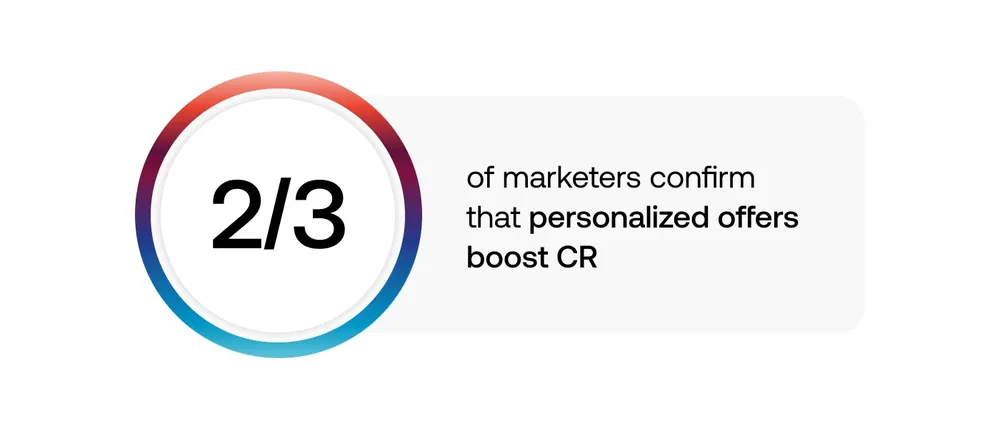 Bespoke pays off
With hyper-personalized mobile apps, retailers can acquire zero and first-party data, which is especially important for companies with multiple sales channels. Apps can be a mass communication tool, allowing businesses to send granular information to individual users.
The numbers speak for themselves – 1/3 of young Polish consumers appreciate apps that go the extra mile to customize offers according to their tastes. Businesses that deliver personalized experiences can expect their customers to spend up to 34% more. On the flip side, those who don't receive contextualized recommendations will lose trust in the brand. 62% of buyers feel this way, up from 45% just two years ago.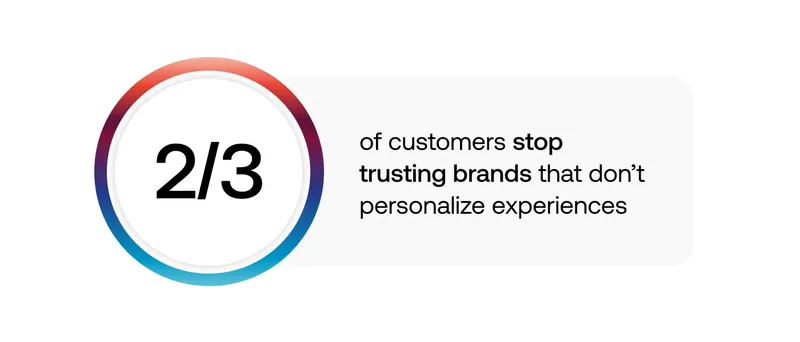 Hyper-personalization and ROI go hand in hand. 49% of customers claim that they are likely to repeat the purchase and will benefit from the brand's offer in the future if they get a personalized experience. Hyper-personalization enhances performance, revenue, and overall sales metrics with bespoke special offers and relevant recommendations.
Advanced technologies such as precise targeting, NFC, proximity sensors, dynamic and predictive pricing enhance the user experience while reducing churn rate. Tracking and analyzing user behavior, demographics, and psychographics provide valuable insights for strategic decision-making that can boost revenue and build a competitive advantage. It's easier to decide on product development and customer relationship management when you have the right data.
Hyper-personalization is also a way to increase brand loyalty and improve retention. Providing customers with what they need at a particular moment leaves a lasting impression that the brand understands their unique preferences, which can translate into increased long-term revenue from both new and regular customers.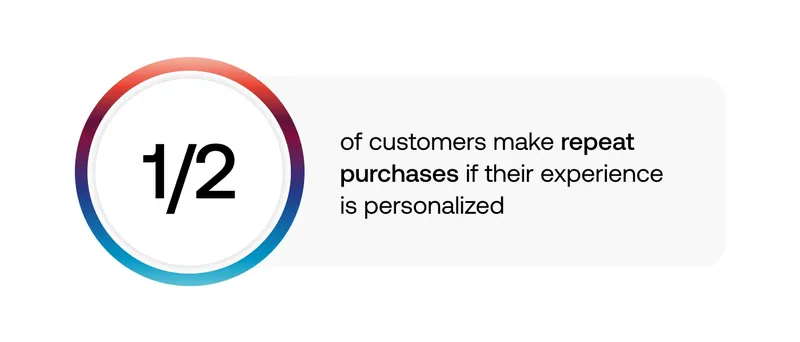 Hyper-personalization examples
A whopping 80% of customers are more inclined to purchase from a company that offers a complete 360° customer experience. Hyper-personalization is already happening:
Hyper-personalization as a feature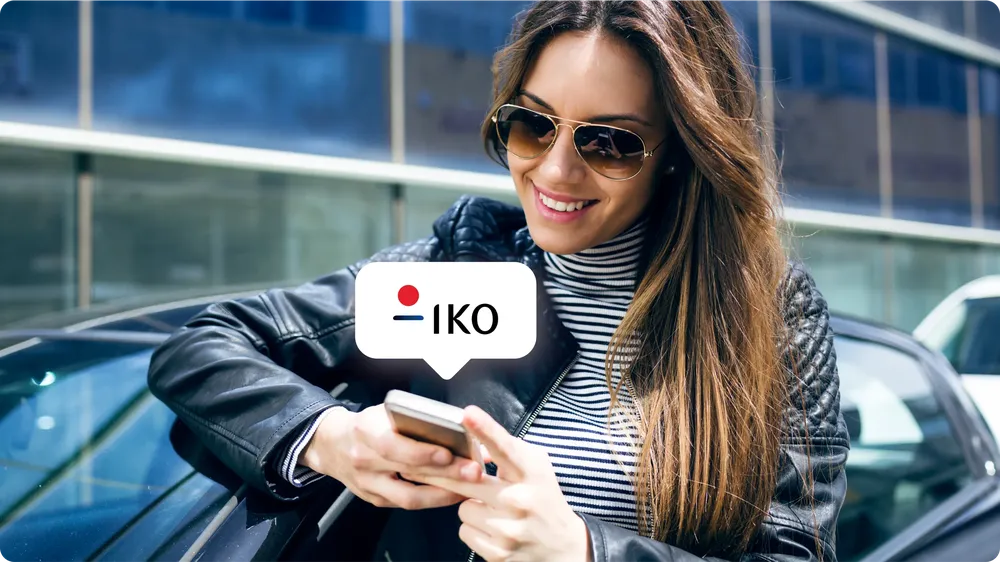 Nowadays, banking apps like IKO go above and beyond traditional functionalities, offering tailored experiences that cater to the specific needs of clients. Take, for instance, the increasingly common feature of purchasing parking tickets through these apps.
By leveraging the power of data such as location and speed tracking, banking apps intelligently detect when you've moved away from a parking spot without turning off the parking meter. This prompts the app to send you a helpful push notification, ensuring you don't waste your money.
Hyper-personalization for product offerings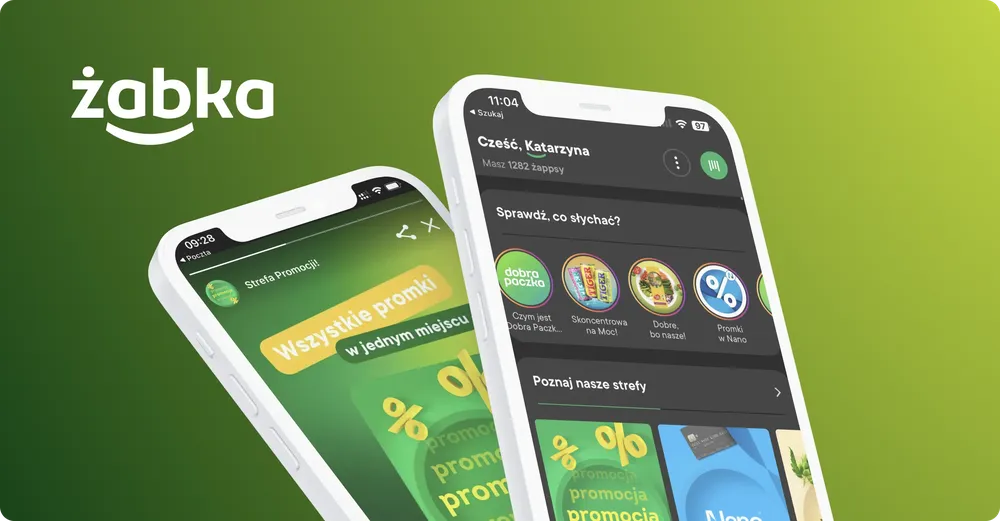 They say there's always room for improvement. Even though Żabka had already become the undisputed leader of the Polish convenience market, together with the Future Mind Solutions team we have noticed multiple new hyper-personalization and loyalization opportunities.
As part of Future Mind's cooperation with Żabka, we have introduced personalized content, offerings, and short videos in the form of stories to enhance user engagement.
Cooperating with Storyly, leveraging first-party data from Żabka's recommendation engines, CRM, and other sources allowed us to:
create in-app stories without coding,
collect user information through interactive stickers,
encourage one-click purchases with product tags, swipe-ups, and custom CTA buttons,
boost sales through countdown items,
gather user feedback through surveys and quizzes,
create and display interactive, personalized video content,
integrate Google Ads with Storyly to display native ads from business partners in the form of stories,
import stories from social media campaigns,
allow users to create and share stories within the app to build a community.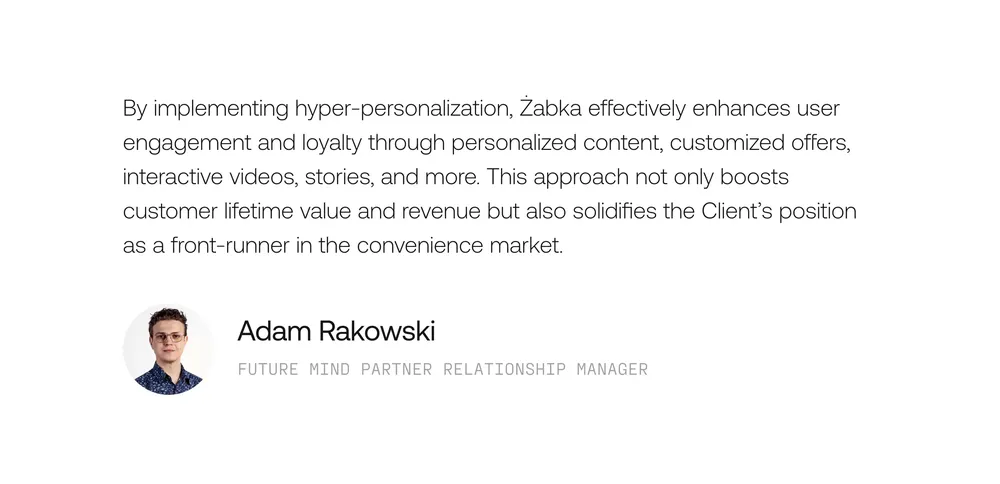 Hyper-personalization for recommendation engines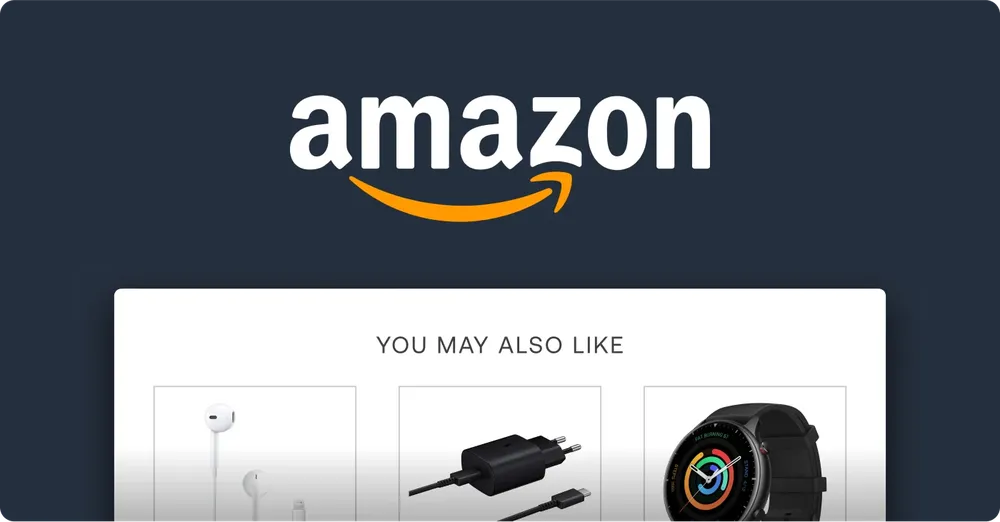 Amazon is a master at leveraging predictive analytics and collaborative filtering to curate a personalized shopping experience for its customers. The genius lies in how it examines the buying habits of its users and then compares them with other shoppers who have made similar purchases. This approach helps Amazon create extremely accurate "frequently bought together" product listings and recommendations.
But Amazon's methods don't stop there. By analyzing the browsing data and purchase history of its users, it has established a solid reputation for being ahead of the game. For instance, when a customer buys a pet toy, Amazon's algorithms won't just suggest more pet toys for future purchases. Instead, they'll consider the customer's viewing history and discover that they have a penchant for Star Wars movies. Amazon will then recommend Baby Yoda pet toys, delighting the customer and increasing their loyalty.
This advanced system accounts for a staggering 35% of Amazon's total revenue. It's a testimony to the power of intelligent data analysis and the importance of understanding customer behavior to drive sales.
Hyper-personalization software that can boost your sales
Software that streamlines the process of hyper-personalization is already there. Some of the noteworthy examples include:
Data-based solutions are the future
Customers expect a personalized experience that's unique to their journey with your brand. Generic, segmented personalization just won't cut it anymore.
It's simple – if your competitors offer hyper-personalized solutions, your business needs to as well if you want to stay competitive. While traditional personalization methods can still add value, keeping up requires tech and innovative solutions that focus on data .
Only 47% of companies use real-time data for personalization, leaving plenty of room for the other 53% to stand out in 2023. If you're in that group, reach out to our experts to discuss your potential.